Did Ariana Grande Really Get Paid Twice As Much As Beyoncé For Coachella?
By Lauren Crawford
April 19, 2019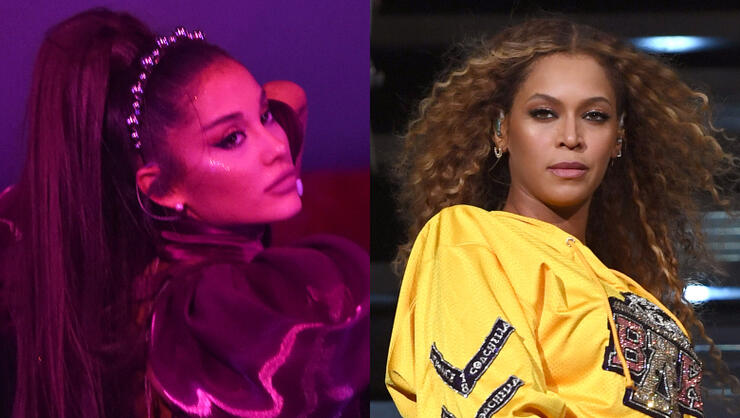 "This is a case for the FBI."
Alright, so there's a rumor going around that Ariana Grande got paid twice as much as Beyoncé to headline Coachella Music Festival.
According to Variety, Ariana was paid $8 million to headline Coachella this year. However, a number of media outlets claimed Beyoncé was paid $4 million to headline in 2018.
Now, this alleged tea picked up a whole lot of steam following the release of Queen Bey's history-making Netflix documentary, Homecoming, which not only showed her industry-shifting performance, but also the behind-the-scenes action of what it took to make the once-in-a-lifetime Beychella come to fruition. Not to mention, the doc gave an in-depth explanation of the performance's cultural significance, influence, and overall importance to the black community. (To summarize the two-hour doc, Bey put in that werk to ensure her performance was more than a show or a statement, but an actual part of Black History!)
All of which are reasons why Queen Bey's Beyhive was shaken, not stirred, over the alleged pay disparity as it turned it into a public outcry of sorts that led fans to social media where they blasted Coachella, and even Ariana, over the alleged offense. However, on Friday (April 19), The Blast released their own report, claiming Ariana and Bey's contracts "were structured exactly the same way" — $4 million for the first weekend of Coachella and another $4 million for the second weekend, meaning Bey got $8 million as well, which puts this here case to rest.
Bey got that coin and so did Ariana — two queens getting that check!
Photo: Getty Images
Chat About Did Ariana Grande Really Get Paid Twice As Much As Beyoncé For Coachella?