Kelly Clarkson Pokes Fun At Rumored Carrie Underwood Feud: Read Her Tweet
By Hayden Brooks
April 19, 2019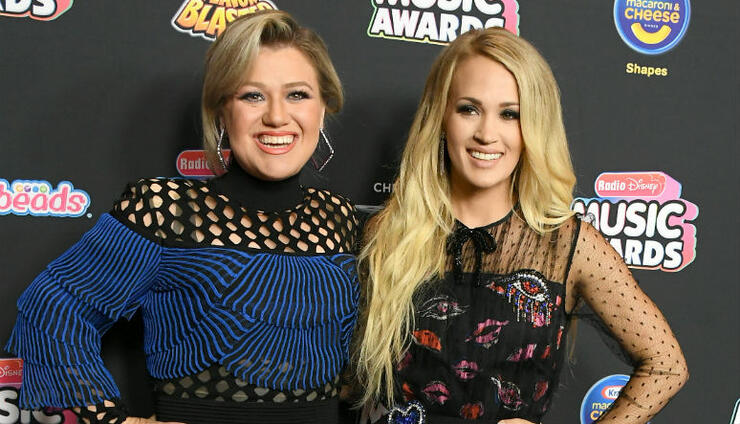 Kelly Clarkson and Carrie Underwood are on the cover of the latest Star magazine over their "secret feud" and the American Idol OG has something to say about the faux scandal.
On Thursday (April 18), The Voice judge took to Twitter to share a photo of the new issue, which features a story about how both of the stars have been "trashing each other to friends." "Someone just sent me this & I'm like why does she get the good pic & I have the worst expression I've ever made w/zero muscles being used in my face ha!" Clarkson joked to her 12.3 million followers. "I officially have a feud w/whoever used this pic! At least give me a good pic if y'all are gonna be lying is all I'm sayin'"
Clarkson went on to entertain one user, who explained that the reason Underwood didn't get a bad photo is because there is no bad photo of Underwood. "Hahaha touché," she replied. "Well, I have PLENTY of rough ones ha! But I guess it builds character and keeps me humble. This is what I tell myself."
Back at the 2018 Radio Disney Music Awards, Clarkson and Underwood took a photo together, putting a minor pause to the rumors. "Everybody always tries to pit me and Carrie against each other," the 36-year-old explained to Entertainment Tonight. "So, when I saw her I was like, 'You know what? Let's just end this right now and get a picture together because we are never in the same place.' And, like, it never happens. And people always try to put it together like we're enemies. And I'm like, 'We don't even know each other well enough to be enemies.' So, anyway, I went to get a picture and then everybody lost their mind."
Chat About Kelly Clarkson Pokes Fun At Rumored Carrie Underwood Feud: Read Her Tweet