Jonas Brothers Announce Release Date For New Album 'Happiness Begins'
By Hayden Brooks
April 22, 2019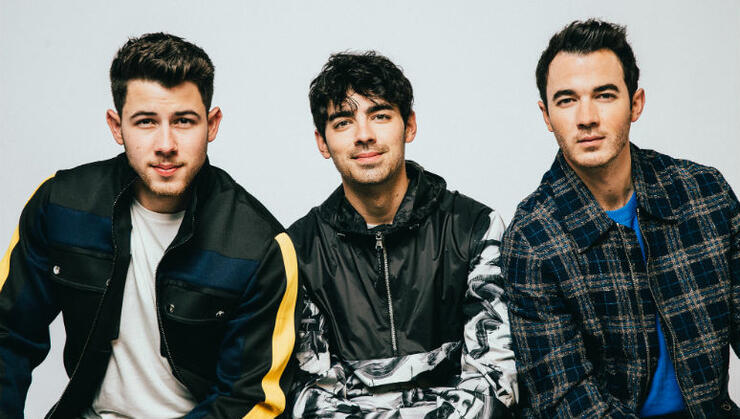 The Jonas Brothers' reunion is about to come full circle with their new album, Happiness Begins.
On Monday (April 22), Joe, Nick and Kevin took to Instagram to unveil the cover art for the upcoming LP, which is due June 7. "So proud of this new record and we can't wait for you guys to have these songs!!" the trio wrote in a separate Instagram post. Meanwhile, Kevin seemed particularly happy with the news of the fifth studio effort, writing, "After 7 years of not working together & finding ourselves we're back to give you our journey in album form. Out of all the albums we've done I'm most proud of this one. Wish you could have it now, but you'll just have to wait a little bit longer."
No track list has been revealed, but we can imagine that "Sucker" and "Cool" will find fitting placement on the collection.
In early March, the JoBros stopped by iHeartRadio and spoke about how their reunion come together, courtesy of some "necessary healing" between the trio. "The initial talks began about a year and a half ago. Initially, it was just to shoot a documentary, which we've done, but in that process I think we did a lot of necessary healing and working through some things as family and brothers first," Nick explained. "That opened that door for us to even think about working together again. There's a magic that we feel we have when we're together that we all wanted to feel again, and it's been pretty incredible this reaction already. [We] just have to say thank you to the fans who have been so supportive over the years in our individual stuff, but then when we come back together ... just that love that we're feeling is just unbelievable."
Photo: Rachel Kaplan for iHeartRadio
Chat About Jonas Brothers Announce Release Date For New Album 'Happiness Begins'