Nikki Sixx Actor Was Warned To Not Imitate Mötley Crüe Bassist In Biopic
By Andrew Magnotta @AndrewMagnotta
April 22, 2019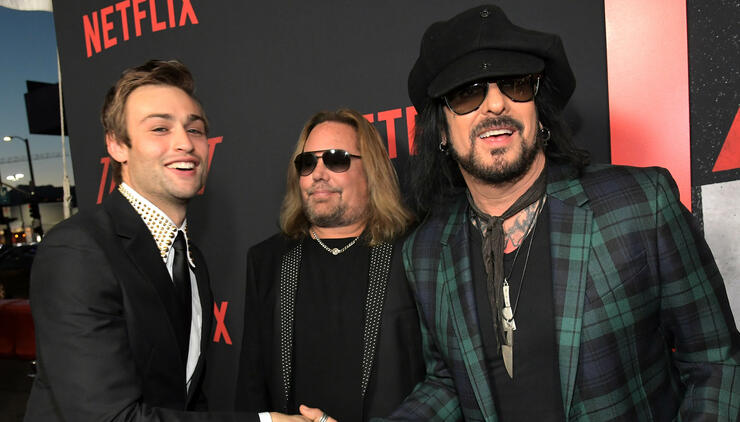 Of all the members of Mötley Crüe, band leader and bassist Nikki Sixx may have undergone the most complete transformation since the events of the band biopic, The Dirt, which was released last month on Netflix.
The Mötley Crüe band members were hands-on in the process of creating the film, visiting the set often and spending hours socializing with the actors portraying them.
In most cases, access to the person an actor is portraying makes it easier to get into character. But Douglas Booth, who played Sixx in The Dirt, says he was explicitly told not to emulate the man he knows.
Booth recalled visiting Sixx at home prior to shooting in a recent interview with IGN.
"I read The Dirt and I was nervous because he is such a notorious character," Booth said. "But then this really warm, inviting, kind man opened the door and made me feel so comfortable."
The meeting gave the actor a wildly different perspective on his character, which director Jeff Tremaine told him to forget about for the purposes of the film.
"As soon as I left his house, the director said, 'This is a very different person than who you're going to be playing in this movie. You're playing him back then.' I had to be very much aware of how much he's changed."
Sixx's arc in The Dirt focuses on how the turmoil of his childhood fostered his ambition but also fueled his well-documented heroin problem.
Sixx has repeatedly congratulated Booth for his performance in the film and how he brought to life such a complex part.
Photo: Getty Images
Chat About Nikki Sixx Actor Was Warned To Not Imitate Mötley Crüe Bassist In Biopic