Louis Tomlinson Helps Elderly Man With His Bucket List In 'Two Of Us' Video
By James Dinh
April 24, 2019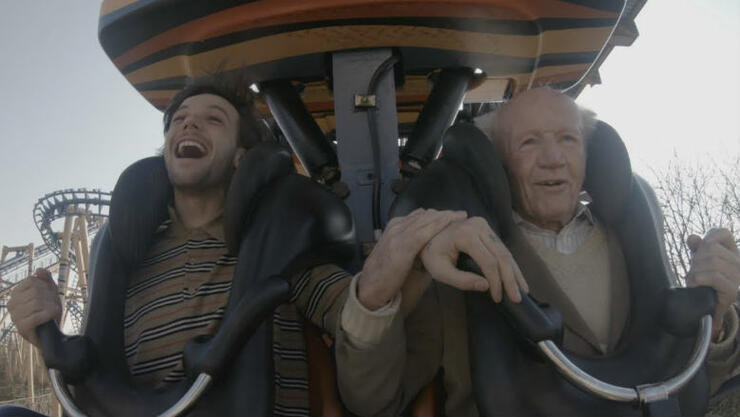 Louis Tomlinson has paired the emotional sentiment of his latest single, "Two of Us," with a tender music video, which sees the former One Direction bandmate help an 83-year-old veteran named Richard accomplish items on his bucket list.
In the seven-minute clip, which premiered on Wednesday (April 24), viewers learn that Richard has had all kinds of careers, including gigs as a taxi cab driver and singer, but none of those experiences seem to match the feeling that he shared with his wife, Pat, who passed away in December 2016 from Alzheimer's Disease. "We all come into this world the same way and we go out the same way. When you leave this little plot, you ain't coming back, so you might as well make the best of what you've got," Richard says in the beginning of the video as Tomlinson's Dan Priddy & Mark Crew-produced cut plays in the background. It's an emotional watch to see Richard reflect on his life, but the singer also opens up about losing his own mother in 2016. "She was 43. We're a big family as well, so it hit us hard," the 27-year-old star tells Richard, before introducing the big bucket list idea. Tomlinson also lost his younger sister after filming the video.
As the clip unravels, viewers see the pair fly a helicopter, ride a race car, hit a tattoo shop and enjoy the thrill of a rollercoaster. Tomlinson also gives Richard the spotlight when he invites the elderly man to his arena stage to perform a song. "It's been lovely. I mean, honestly, no bullsh*t, actually spending real time with you and feeling like we're getting to know each other has been real nice," Tomlinson tells Richard at the end of the video as they toast over beers.
"I'm not at the stage in my grief where I'm going to open the first verse and burst into tears," the pop star told Radio 1 Newsbeat at the time of the song's release in March. "It was something I needed to get off my chest. I used to lean on my mum for a lot of things - anytime I needed advice on something she would be the first call I made." Elsewhere in the interview, Tomlinson said that while "Two of Us" is a somber cut, he doesn't want listeners to get caught up in the sadness of the narrative. "There is a lot of fight in life and I just get on with it. I'm quite a positive person but there's no two ways about it - it's sad what happened to me," he explained. "I don't want people to get caught up in the sadness of it. The song should be hopeful."
Photo: YouTube/Louis Tomlinson
Chat About Louis Tomlinson Helps Elderly Man With His Bucket List In 'Two Of Us' Video