Nipsey Hussle's Sister Files For Guardianship Of His Daughter
By Lauren Crawford
April 30, 2019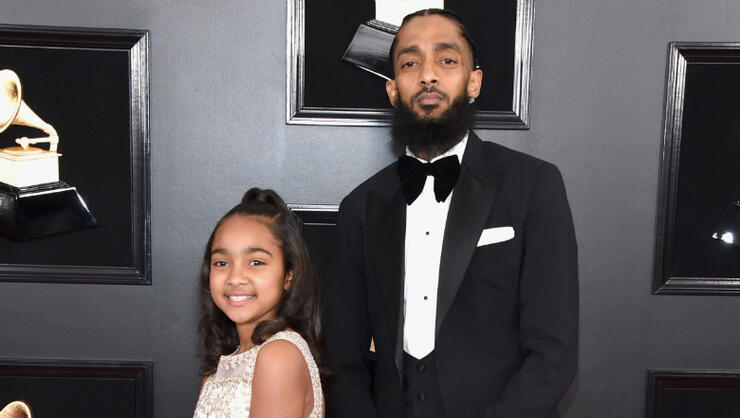 Nipsey Hussle's sister, Samantha Smith, has filed for legal guardianship of his 10-year-old daughter Emani Asghedom.
According to TMZ, the 25-year-old skin therapist recently filed the documents in Los Angeles Superior Court. Sources told the entertainment site, Samantha believes Emani's mother, Tanisha Asghedom, is unable to care for her.
In the docs, obtained by TMZ, Samantha says she's assisted in the care of Emani throughout her life and wants "to ensure the continued stability for Emani and ensure that she will be able to maintain her current and ongoing relationship" with Nipsey's family.
Nipsey was reportedly caring for Emani before his death. The late 33-year-old rapper and activist, who was gunned down outside his clothing store on March 31, also shares a two-year-old son, Kross, with his longtime girlfriend Lauren London. Kross is not the subject of the guardianship as he lives with Lauren.
Following Nipsey's death, Samantha wrote a heartbreaking tribute to her brother where she proclaimed that she would always watch over his daughter Emani and son Kross
"You are my heart. You are my strength my wisdom my joy my balance. You are my Superhero. Invincible to me. I feel so safe with you. I feel so covered and protected. Imperfections do not exist with you because you are flawless," Samantha wrote on Instagram April 2. "I need you I need you please let me hold you again. You are my baby. To the world you are the strongest man and to me you are the most vulnerable innocent child."
"Your heart is pure they don't know you like we know you. Your love is expansive. Talk to me again," she continued. "You've taught me so much. You hold me down through everything. I got Lauren. I got Emani. I got Kross. I got Sam, he is my responsibility now. He is my big little brother. I got mommy and Granny and Pop. You gave me so many tools. You gave me so much insight. We will talk every second of everyday and I am here to carry out your vision. Ermias God Will Rise. I love you forever and I will cry forever. You are my lifeline as long as I am here you are too."
A judge has yet to rule on Samantha's petition for guardianship.
Photo: Getty Images
Chat About Nipsey Hussle's Sister Files For Guardianship Of His Daughter