Cardi B Reveals She Got Her 'Boobs Redone' After Kulture's Birth
By Peyton Blakemore
May 2, 2019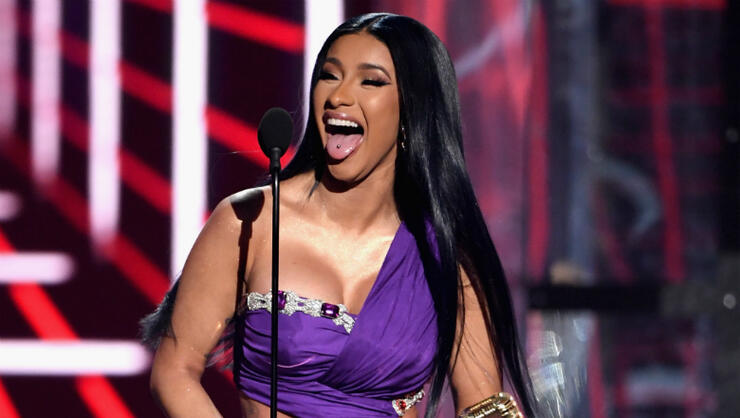 If there's one thing Cardi B is exceptional at, it's keeping it real.
While chatting with Entertainment Tonight at the 2019 Billboard Music Awards on Wednesday (May 1), the "Clout rapper" revealed that she recently underwent breast augmentation surgery following the birth of her nine-month-old daughter, Kulture. "I just got my boobs redone," she admitted. "I feel good, but then sometimes I feel like not, you know? [When] your skin is stretched out."
"Yes, my daughter f**ked me up," she jokingly added. "She did. She so did."
As fans know, Cardi previously told her fans she was interested in getting surgery to raise her breasts shortly after she gave birth. "Kulture did me bad," she captioned an Instagram video of her duct-taping her boobs for instant breast lift trick back in September. "This sh*t is crazy, I have never done this sh*t in my life, but f**k it. I have to f**king tape my t*****s up," she explained in the clip.
"[When I gave] birth my t*****s were already a little low, low cause I got my t*****s done when I was 19 and I never wore a bra... [But] while I was pregnant my s**t was looking nice though nice, I was like oh s**t. Now though, Kulture did me filthy," Cardi added.
After blaming baby Kulture for her change in boobs, Cardi went on to explain her plans to get her breasts permanently lifted. "I don't give a f**k, if y'all see me gone in November or December, I'm getting my t**s done. I don't give a f**k," she said. "Matter of fact, I'm not even going to call it surgery I'm gonna call it t***y renovation because I got to renovate these sh**ts... I'm out here taping myself so I can look like this," she said as she showed off her lifted chest. "I want my s*** to look like this again."
Cardi welcomed Kulture with her husband Offset in July. While on the BBMAs red carpet she showed off her incredible post-baby body in a yellow ensemble that put her incredible abs on display.
Photo: Getty Images
Chat About Cardi B Reveals She Got Her 'Boobs Redone' After Kulture's Birth