Aerosmith Chose Las Vegas Residency Because It Was 'Something Different'
By Andrew Magnotta @AndrewMagnotta
May 3, 2019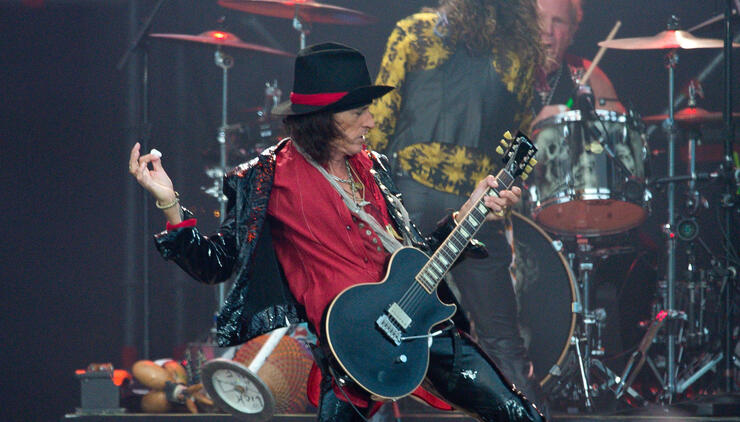 Fifty years into its legendary career, Aerosmith was looking for a new experience.
Guitarist Joe Perry says that's ultimately why the band chose to park its tour buses in Las Vegas for most of 2019 and design the perfect Aerosmith show, rather than doing a full-scale tour for the milestone anniversary.
Perry told Billboard in a new interview that the prospect of the 'Deuces Are Wild' residency at the Park Theater at the Park MGM has been on the band's mind for a while.
"...[F]inally, it got to a point where we didn't feel like doing another album, and we wanted to do something different," Perry said. "This seemed like the natural thing. We went down the short list of "what do you do?" We've played Europe, we've played the far east; it just seemed like a really cool thing. And we said, 'Look, if we're going to go in and do it, let's do it in a way no one has for a rock band.'"
With that, the band set about designing a show that had all the intension of a typical Vegas production, but all the guts and authenticity of Aerosmith.
While Aerosmith won't be doing a typical tour this year, the band will be taking 'Deuces Are Wild' on the road to several east coast MGM properties this August.
Perry says it's unclear whether the entire Vegas show will make it east, but either way, fans will be treated to an immersive experience that's uniquely different from a typical Aerosmith concert.
The guitar great also addressed the band's Vegas setlist, saying Aerosmith plans to mix it up throughout its tenure.
"The next leg I know we'll be switching it up, bringing more of the old album cuts we get requests for all the time," he said.
'Deuces Are Wild' returns to Vegas June 19 - July 9. For tickets and more information, go here.
Photo: Getty Images
Chat About Aerosmith Chose Las Vegas Residency Because It Was 'Something Different'