Dave Grohl Plays Drums On Motörhead and Thin Lizzy Classics: Watch
By Katrina Nattress
May 6, 2019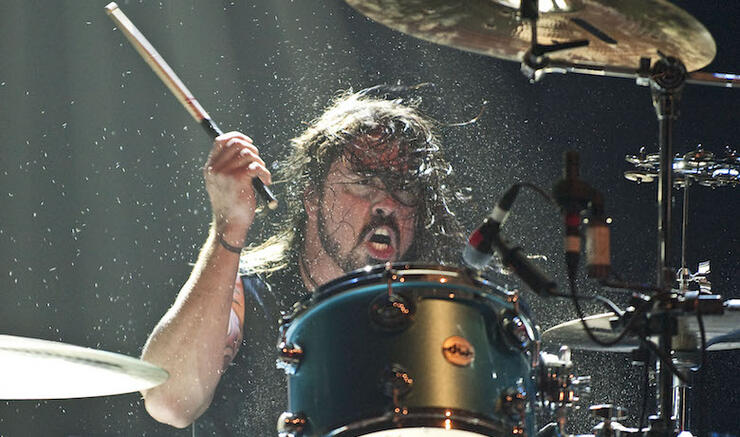 Los Angeles hosted the fifth annual "Ride For Ronnie" charity event on Sunday (May 5) in honor of the late metal legend Ronnie James Dio. Dave Grohl, never one to say no to charity or pounding the skins, surprised the crowd at Los Encinos Park and sat behind the drum kit to play a couple Motörhead and Thin Lizzy classics with a star-studded band.
The Foo Fighters frontman and Nirvana drummer joined Ricky Warwick (Thin Lizzy, Black Star Riders), Robbie Crane (Black Star Riders), and Keith Nelson (Buckcherry) on Motörhead's "Bomber" and Thin Lizzy's "Jailbreak."
Watch both high-octane performances below.
The event, which featured several other performances, raised money for the Ronnie James Dio Stand Up and Shout Cancer Fund, an organization that supports research and early detection of prostate, colon and stomach cancers. Ronnie James Dio passed away from stomach cancer in 2010.
This wasn't the only surprise show Grohl played recently. Late last month, he and Brandi Carlile stunned fans in Seattle when they busked at Pike Place Market. Together, they played The Beatles' "Let It be" and Foo Fighters' "Times Like These." Street performances aside, Grohl and the Foos are hitting the festival circuit this summer and are also playing a couple dates in South America with Weezer and Tenacious D. Check out their full list of 2019 live dates here.
Photo: Getty Images
Chat About Dave Grohl Plays Drums On Motörhead and Thin Lizzy Classics: Watch