Maximum Security Owner Vows to Appeal Kentucky Derby Ruling
By R.J. Johnson - @rickerthewriter
May 6, 2019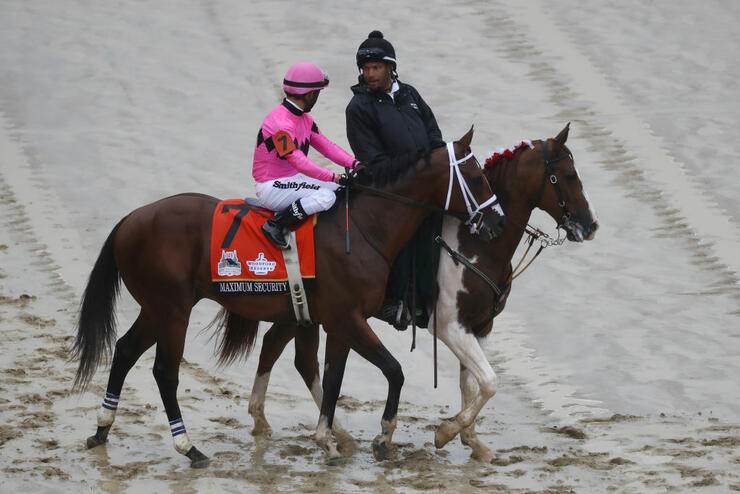 The Kentucky Derby ended in controversy this year after the first horse to cross the finish line was disqualified. Now, the co-owner of the disqualified horse says he plans to file an appeal with the state racing commission.
"We were stunned, shocked and in total disbelief," Gary West told "The Today Show" Monday morning. "The appeal has to be filed within 48 hours so we'll be filing that today."
West also revealed his horse, Maximum Security, would not be competing in the Preakness Stakes on May 18, forgoing any chance for the Triple Crown.
"I think there's no Triple Crown on the line for us," West told Samantha Gunthrie and Craig Melvin. "And there's no reason to run a horse back in two weeks when you don't have to."
The controversial decision to disqualify Maximum Security came after stewards reviewed video of Saturday's race at Churchill Downs and ruled the horse dangerously impeded progress for one of its rivals, War of Will, around the turn for the home stretch. The rules call for disqualification if "a leading horse or any other horse in a race swerves or is ridden to either side so as to interfere with, intimidate, or impede any other horse or jockey."
After about twenty minutes of reviewing the race footage from various angles, the stewards awarded the victory and its $1.86 million purse to the 65-1 longshot second-place finisher Country House. Maximum Security had led the pack through the race, crossing the finish line 1 3/4 lengths ahead of Country House.
It was the first time in the 145-year history of the Kentucky Derby that a horse that finished first "had been disqualified," the race's official Twitter account said.
"I think this is something that is big enough that the entire racing world is looking at this and they deserve an opportunity to really know what was going on," West said. The co-owner of Maximum security also complained the stewards had been unwilling to take questions about their unprecedented decision.
"I was a bit shocked and surprised that the stewards wrote a statement that was probably prepared by their lawyers and refused, literally refused, to take a single question from the media," West said. "They've been about as non-transparent about this whole thing as anything I've ever seen in my life."
The Preakness is scheduled to take place on May 18, with The Belmont Stakes on June 8.
Photo: Getty Images
Chat About Maximum Security Owner Vows to Appeal Kentucky Derby Ruling