Miley Cyrus Backs #FreeBritney Movement During Surprise Concert
By Hayden Brooks
May 6, 2019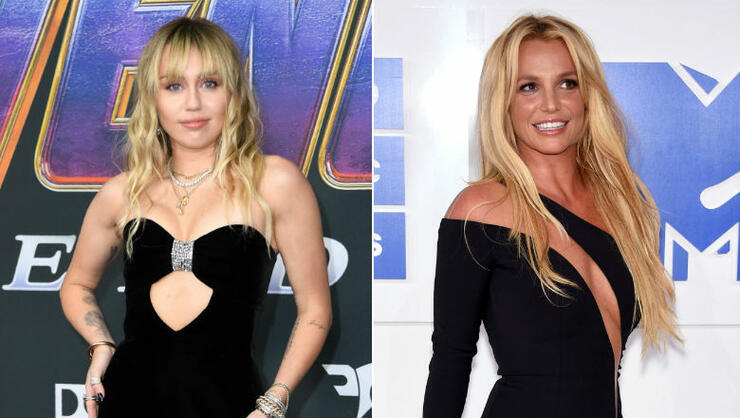 Over the weekend, Miley Cyrus performed a surprise concert as part of the Beale Street Music Festival in Memphis, Tennessee and the pop titan took a brief moment to back the #FreeBritney campaign, a bubbling conspiracy-theory-turned-social media movement that suggests Spears is being manipulated in her longtime conservatorship.
As Cyrus was performing "Party in the U.S.A." on Saturday (May 4), the 26-year-old star yelled out the phrase, "Free Britney," during the second verse of the smash, where she typically gives Spears a shoutout. Cyrus' love for the pop vet runs strong as she's mentioned her devotion time and time again. The two even shared management at one point when Adam Leber (her current representative) was a member of Spears' longtime management collective. Leber reportedly split from the team in late 2017. "If you noticed, I'm the first person that comments on every photo she posts. I'm her biggest fan," Cyrus told 103.5 KTU in an interview in late December. The #FreeBritney movement will see a new development when the conservatorship becomes a topic of conversation at a court hearing on Friday. Spears will reportedly not need to be present at the status hearing.
Cyrus' call out for the campaign was brief, but the backing joins a growing number of advocates like David LaChapelle, who recently spoke out about Spears on Instagram after the pair's scrapped 2016 music video for "Make Me" leaked online. "This is some of my footage, this is not my edit. I find it very suspect that the video was 'leaked' while Britney was 'away,'" he wrote. "The video/song wasn't released because Britney didn't like it. Her voice as an artist, should be respected. The only direction Britney ever gave me for this video is for me to film her in the cage. At the time I didn't understand why would you want to be filmed in a cage? At first I envisioned to film her as a tigress, but she wanted to be filmed more timid, like a kitten. For everyone on my team, at least, we could tell something was off."
In late April, Spears attempted to slow down the bubbling whispers by recording a video message to her fans. As her time in a mental health facility came to a close, she took to Instagram to keep fans at bay regarding rumors that she was at the 30-day facility against her will. "My family has been going through a lot of stress and anxiety lately so I just needed time to deal. But don't worry I'll be back very soon," she said in the clip, which was accompanied by a lengthy caption about needing to take a moment for herself. Meanwhile, insiders close to the situation revealed that she is "doing really well" since checking out of the facility, which reportedly came about due to the stress from her father, Jamie Spears, and his recovery from a life-threatening ruptured colon.