Deryck Whibley Says 'Order In Decline' Is Most Personal Sum 41 Album Yet
By Katrina Nattress
May 8, 2019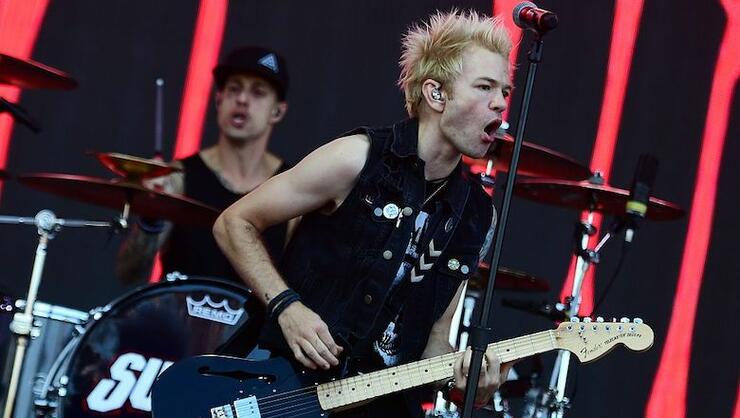 Last month Sum 41 announced a new album Order In Decline and dropped its politically charged lead single, "Out For Blood." During a recent interview with Kerrang!, frontman Deryck Whibley goes into more detail about what influenced the album, admitting that the last thing he wanted to do was make a political record.
"I was reluctant to make a sociopolitical album, but it's really hard to ignore everything that's going on in the world – you can't not have an opinion on things," he explained. "I was trying to stop myself from writing anything that sounded politically 'of the times', but every time I tried to change the lyrics it all stopped making sense. Once I let that wall down, everything flowed a lot more easily. I feel like Order In Decline is a very personal record that talks about how I feel about different things I see happening."
He fought the urge to write about politics because he normally sees music as an escape from real life and didn't want Donald Trump seeping into that facet of his life too, but it was inevitable. "With everything that's going in American politics right now with Donald Trump, I'd be waking up in the morning, turning on the news, hearing about the latest political chaos, and I'd think, 'F**k this guy, I can't listen to this s**t – I'm gonna go work on music,'" Whibley said. "But then I'd start writing, the words would come out and I'd be like, 'Goddammit – now this asshole is taking over my music!' So I tried to fight it."
"The record isn't all about Donald Trump by any means, but he has a hand in so much stuff that's going on right now," he continued, "there's a lot of hatred and division around the world, and I didn't want all that to come into the music. It was rearing its head in the lyrics very naturally, though, so eventually I just stopped pushing against it."
Though politics did make their way into Order In Decline, Whibley doesn't see it as a political record. Rather, he thinks it's the band's most personal yet. "I see it as a very personal record," he said. "I don't get into specific policies or offer detailed opinions – this isn't a Rage Against The Machine album. It's my feelings about things put to music, that's it."
Order In Decline is slated for a July 19 release. Listen to its lead single "Out For Blood" below.