Wait, Did Prince George Reveal Baby Archie's Name Back In January?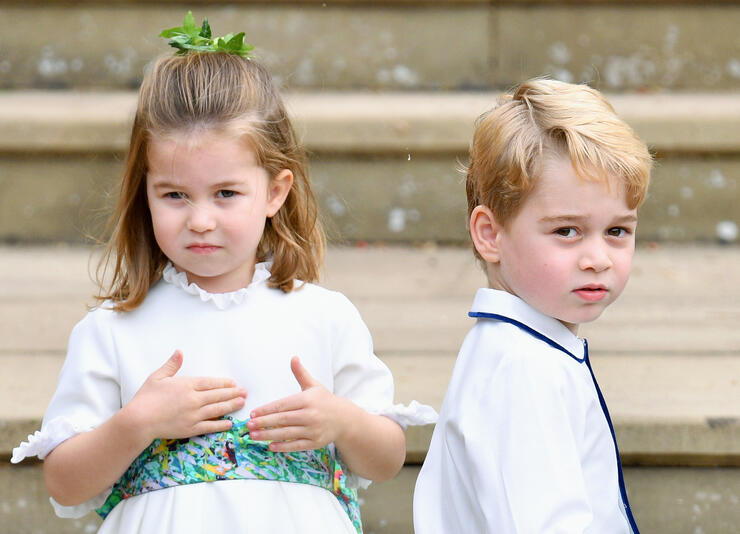 Baby Sussex finally has a name! Meghan Markle and Prince Harry revealed they named their newborn son Archie Harrison Mountbatten-Windsor. The moniker surprised many, though another member of the royal family may have revealed Archie's name all the way back in January.
While out on a walk with with his maternal grandmother, Prince George told a dog walker he goes by a different name than George. While a bunch of kids have nicknames, George reportedly told the passerby: "I'm called Archie!" Here's what the dog walker said of her run in with the young prince at the time:
Just to be friendly, I engaged in a bit of small talk, and I asked George what his name was, even though obviously I knew it. To my astonishment, he said, "I'm called Archie," with a big smile on his face. I don't know why he calls himself Archie, but kids often play with their names, and I think it's lovely.
This cute anecdote was first reported by The Sun, however, nobody thought much of it at the time. Now that Meghan and Harry announced their son's name, though, some royal-watchers are wondering if the 5-year-old prince let a major secret slip.
It's unlikely that the Royal Family will confirm or deny these baby name theories. Perhaps Meghan and Harry simply liked George's nickname so much they snagged it for themselves? Archie has a sweet meaning behind it, as well. The cute name, which is traditionally a shortened version of Archibald, means "true and bold." His middle name Harrison is a sweet tribute to Prince Harry, as it means "son of Harry."
Whether George let the secret slip or not, it seems like the little prince definitely approves of his cousin's name. Now that we've gotten our first glimpse at Archie, we can only hope that Queen Elizabeth releases a group shot of all eight of her great-grandchildren.
Photo: Getty
Chat About Wait, Did Prince George Reveal Baby Archie's Name Back In January?