Meghan Markle Shared A New Photo Of Archie For Her First Mother's Day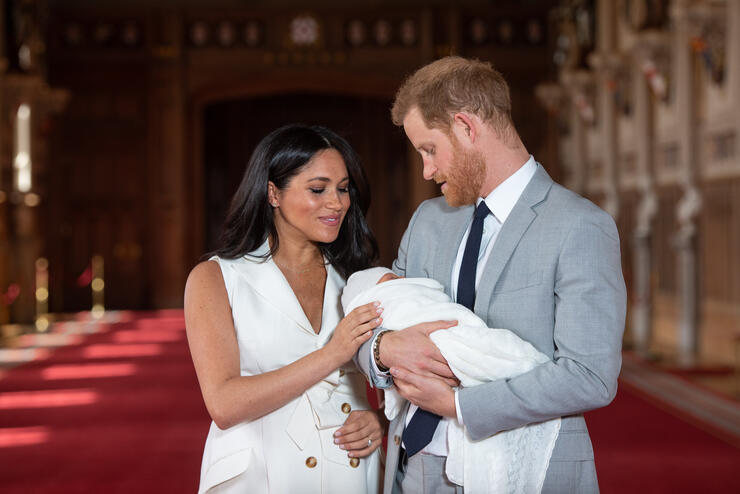 Meghan Markle celebrated her first Mother's Day over the weekend after welcoming her son Archie last week. To mark the special occasion, The Duke and Duchess of Sussex shared a new photo of their royal baby on Instagram. Not only did the post celebrate Meghan's first Mother's Day, there was also a subtle tribute to Archie's late grandmother Princess Diana.
"Paying tribute to all mothers today - past, present, mothers-to-be, and those lost but forever remembered," the caption reads. "We honor and celebrate each and every one of you. Today is Mother's Day in the United States, Canada, Australia, New Zealand, South Africa, Kenya, Japan, and several countries across Europe. This is the first Mother's Day for The Duchess of Sussex."
They post also included an except from the poem "lands" by African-American poet Nayyirah Waheed: "my mother was my first country; the first place i ever lived." The photo shows of Archie's cute little baby feet above gorgeous Forget-Me-Not flowers, which were Princess Diana's favorites.
Meghan and Harry's decision to only show Archie's feet seems to line up with reports that they plan to raise their son as a "private citizen" away from the public eye. A source revealed to The Times: "As Archie is not an HRH, [Harry] feels he has every right to strictly police his son's privacy. The Sussexes are not using a title for their son in the hope that he will live a more normal life."
Though Harry and Meghan plan to keep Archie out of the spotlight, some fans believe they will release an official family portrait on the one year anniversary of the Duke and Duchess's wedding. We'll just have to wait and see.
Photo: Getty
Chat About Meghan Markle Shared A New Photo Of Archie For Her First Mother's Day