Nipsey Hussle's Clothing Store Has Made $10 Million Since His Death: Report
By Lauren Crawford
May 13, 2019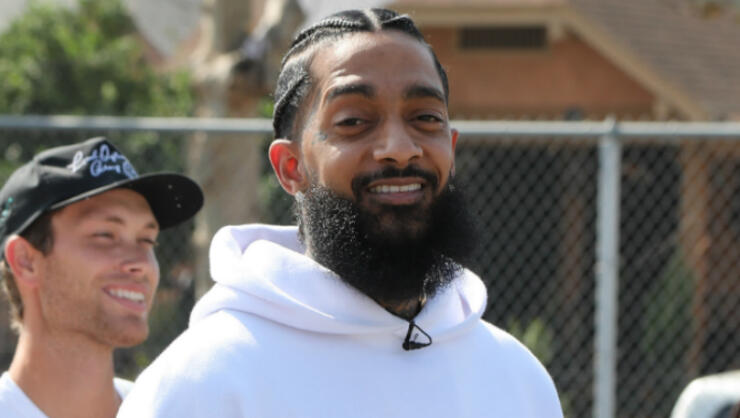 Nipsey Hussle's Marathon Clothing store has experienced a major spike in sales since his death.
According to reports, the online website, which has a flagship store in Crenshaw, has brought in over $10 million in the six weeks since the rapper and activist was gunned outside the clothing store on March 31.
Since news of his passing, fans have flocked to both to the South Los Angeles storefront, and online store to buy Nipsey's merch. Most recently, Nipsey's team thanked his supporters and asked for their patience as they tend to the high demand of merchandise.
"Thank you to everyone who's placed an order with us these last couple of weeks. We appreciate the unprecedented outpour of support," read the statement. "It means alot to our team and family. We are working around the clock to fulfill every order placed. We ask for your patience as we get everything fulfilled and shipped out to you. Additionally, our flagship store is closed right now, but our online store is open 24/7 to serve you and is the only authorized retailer of our brand. Once again, thank you for your support."
News of Marathon Clothing's success comes days after Chris Darden, who was a part of the prosecution team in O.J. Simpson's 1993 double murder trial, announced that he was no longer representing Eric Holder, the 29-year-old suspect accused of killing Nipsey.
As previously reported, the infamous attorney appeared as his representation for the last time at a Friday (May 10) hearing in Los Angeles Superior Court. Darden cited death threats as his reason for stepping down from the case, telling TMZ, "It's the same 'ol thing like in 1995 except this time folks are upset saying I shouldn't represent a probable, mentally ill African American man who's charged with murder. I've received threats, my family, my children have been harassed and threatened and it' really outrageous and I'm really kind of sick of it."
Photo: Getty Images
Chat About Nipsey Hussle's Clothing Store Has Made $10 Million Since His Death: Report