O.J. Simpson's Prosecutor Is Defending Nipsey Hussle's Alleged Murderer
By Lauren Crawford
April 5, 2019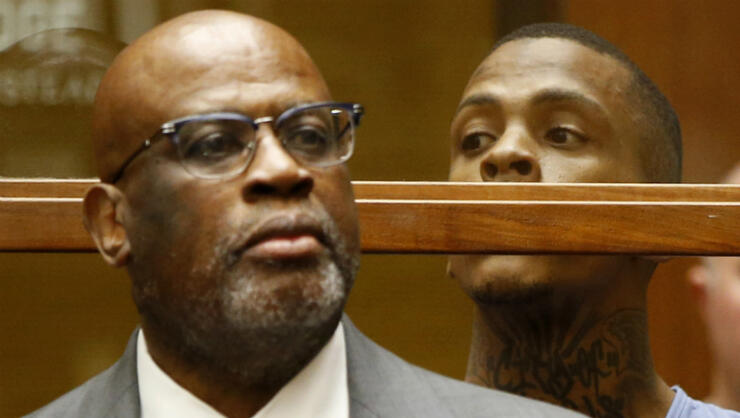 Nipsey Hussle's alleged murderer is being defended by the man who tried to put O.J. Simpson behind bars.
Chris Darden, who was a part of the prosecution team in O.J.'s 1993 double murder trial, was front and center when Eric Holder plead not guilty in court Thursday (April 4). According to the L.A.Times, Prosecutor John McKinney said it was his understanding that Chris had been privately retained for Eric.
Nipsey's alleged killer, who faces life behind bars, made a brief statement in court, agreeing to delay the next court proceeding until May 10. The judge set his bail at $5 million.
On Sunday (March 31), Nipsey, his friend, who the 33-year-old rapper was helping get clothes after being released from prison, and the friend's nephew were standing outside Nipsey's clothing store when suspect Eric Holder approached them. The 29-year-old alleged murderer is said to have had multiple conversations with the men, returning multiple times, before "purposely and repeatedly" firing at them, injuring two of them and killing Nipsey.
Footage of the shooting was also released, showing the suspect shooting Nipsey multiple times before kicking his body and running away towards a back alley. "It doesn't make sense that somebody from the area, that just snuck up, and just talked to him and shook his hand minutes before," the 33-year-old rapper's older brother, Samiel Asghedom, told the L.A. Times. "It's mind-boggling."
Eric, who allegedly fled the murder scene in a 2016 Chevrolet Cruz that was driven by a female getaway driver, was captured on Tuesday following a city-wide manhunt.
Photo: Getty Images