Runaway June Takes Fans Behind The Scenes of Carrie Underwood's Tour
By Taylor Fields
May 14, 2019
Carrie Underwood's "Cry Pretty 360" Tour just kicked off at the beginning of May, and the country star has made the trek an all-female endeavor, bringing along Runaway June and Maddie & Tae to open the show. And while you can enjoy everything that happens on stage during the concert, Runaway June is taking fans behind the scenes, giving a glimpse into their rehearsals for the tour, what their pre-show rituals are, and what it feels like to hit the road with Carrie.
Runaway June released their self-titled five-track EP last September, which featured their empowering hit single "Buy My Own Drinks," a song with a message that makes them so perfect for this tour. In fact, the band told iHeartRadio of the song in a previous interview, "We hope that it kind of empowers everybody to just have fun on their own. And, it's just a fun song about [how] you don't need anybody else. You don't need your friends, you don't need a partner, you can do it all on your own."
While recently rehearsing for the tour, the ladies exclusively tell iHeartRadio of touring with Carrie Underwood just days before the journey kicked off, "It still hasn't sunk in. We're about to leave in a couple days. This weekend, I think finally it'll sink in once we're really on that stage, but it's just a dream come true to be on a tour like this. We couldn't be more excited."
The girls add that they are also excited to learn from Underwood, especially performing on such a big stage. They tell us, "Getting to play on a stage that big and that elaborate, it's like a smart stage with all this technology and lights and stuff. It's going to be a whole new experience. We're so excited and grateful for her giving us this opportunity."
The band rehearsed for "Cry Pretty 360" at Nashville's Soundcheck Rehearsal Studios, of which they explain, "A ton of great artists rehearse here. We're kind of starstruck looking around."
To get ready for their performance each night of the tour, Runaway June has some pre-show rituals they do with their band to help them "get into the zone." They explain, "We do have a few pre-show rituals that we're pretty dedicated to. We like to get together with the band like 10 minutes before we take the stage and get all of us get in the zone. We listen to music, we do a few cheers or say what we're grateful for, something like that to get into the mindset before we take the stage."
And then there's this ("sometimes") pre-show ritual: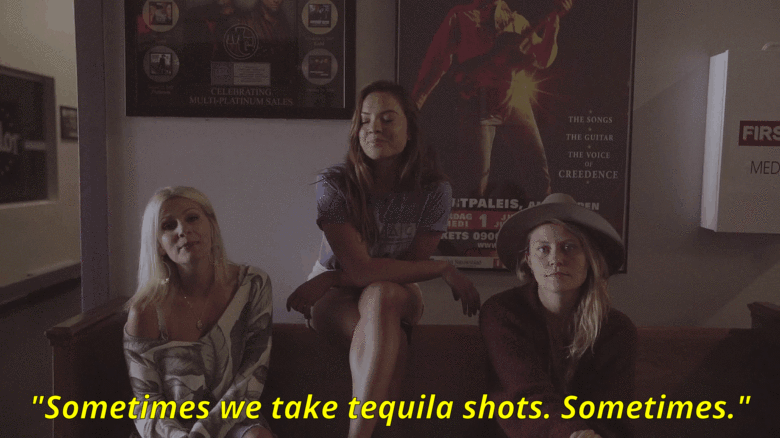 Go behind the scenes with Runaway June during rehearsals for Carrie Underwood's "Cry Pretty 360" Tour in the video above!
Chat About Runaway June Takes Fans Behind The Scenes of Carrie Underwood's Tour