BTS Transform Into The Beatles, Perform 'Boy With Luv' On 'The Late Show'
By Paris Close
May 16, 2019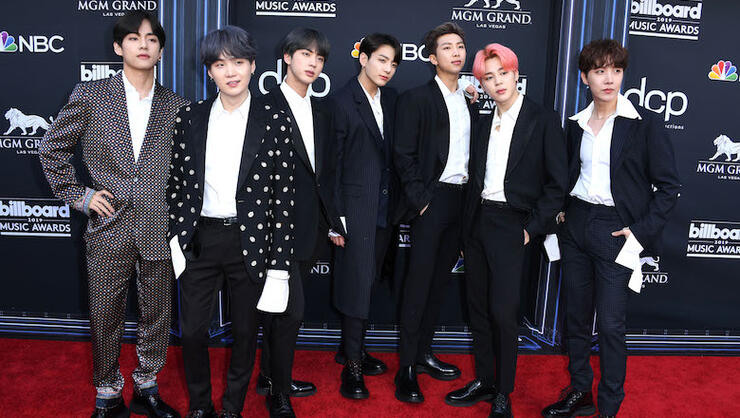 BTS made their debut on The Late Show with Stephen Colbert last night (May 15) and celebrated the occasion with a homage to The Beatles' historic U.S. television debut in February 1964. In the tribute, BTS' Jungkook, Jimin, V, Suga, Jin, RM and J-Hope gave viewers a blast from the past with an old-timey appearance at the Ed Sullivan Theater, where the English rockers — John Lennon, Paul McCartney, Ringo Starr, and George Harrison — marked their first performance in the States over 50 years ago.
In the clip, host Stephen Colbert, who portrays Ed Sullivan in the flashback segment, welcomes each member of the Korean septet, who are all decked out in classic black-and-white suits as the boys across the pond were in the original 1964 taping.
"You may have heard there's a new musical craze sweeping the globe, these fellas are really something. They're called BTS and people are so excited you can only call it BTS Mania," Colbert says in the introduction.
"These boys are from across the pond, the big one, the one with Hawaii in the middle," he quipped. "They really are a fine group of youngsters, in fact, you can call them the fab seven. It's got a nice ring to it."
As the bandmates introduce themselves, Colbert hilariously informs the audience he's given them all the same nickname — "the cute one." Afterwards, the boys hit the stage to perform their hit song "Boy With Luv." (See the clips below.)
This isn't the first time both bands have been connected, as BTS became the first group since The Beatles to earn three Billboard No. 1 albums in a single year with their latest album, Map of the Soul: Persona.
Chat About BTS Transform Into The Beatles, Perform 'Boy With Luv' On 'The Late Show'