YUNGBLUD Announces Release Date For New Graphic Novel 'Ritalin Club'
By Lindsey Smith
May 17, 2019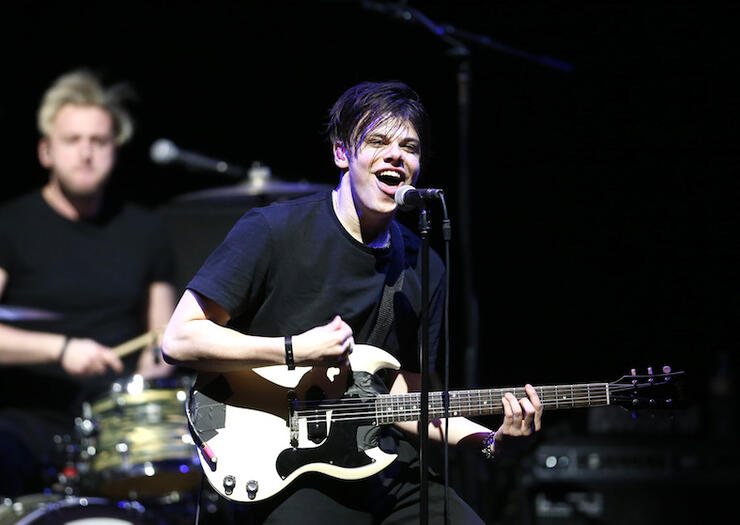 "T-shirts, cool merch and postcards"… and now novels?
On Friday (May 17), YUNGBLUD revealed that he's co-written a new graphic novel called The Twisted Tales Of The Ritalin Club after teasing the new project's cover artwork on Twitter the day before. The "11 Minutes" singer teamed up with Z2 Comics for the graphic novel, set to be released just in time for Halloween on October 15.
Ritalin Club will be available in both a standard and deluxe edition. The deluxe edition comes in a slipcase and is limited to just 1,000 signed copies with three additional art prints included.
The full plot description for the graphic novel is revealed as:
"From the messed-up mind of music sensation YUNGBLUD comes the Twisted Tales of The Ritalin Club! All pupils attending Blackhearts Boarding School must be punctual, masked, and heavily medicated. The displaying of extrasensory powers or abilities is strictly forbidden. Any pupils encountering Yungblud or any member of his so-called "Ritalin Club" are to seek a teacher immediately. Failure to comply with any of the above rules will result in execution. DO NOT TRUST YUNGBLUD. DO NOT TRUST THE RITALIN CLUB. THEY MEAN YOU HARM."
As die-hard fans will know, Ritalin Club is a nod to YUNGBLUD's song "Anarchist" off his 2018 album, 21st Century Liability, where he sings the lines: "I'm employee of the month at a Ritalin club/Yeah, why do you think I'm so messed up?"
Preorders for the graphic novel are available here.
YUNGBLUD is currently traveling across North America on his Don't Wanna Be a Loser tour. Check out a full list of remaining dates below.
YUNGBLUD Don't Wanna Be A Loser North American Tour Dates
05/17 – Asbury Park, NJ @ House of Independents
05/19 – Columbus, OH @ Sonic Temple Festival*
06/14 – Vancouver, BC @ Venue
06/15 – Seattle, WA @ Neumos
06/16 – Portland, OR @ Holocene
06/18 – San Francisco, CA @ Great American Music Hall
06/19 – Los Angeles, CA @ The Roxy Theatre
06/21 – Herber City, UT @ Bonanza Campout Music Festival*
06/23 – Dover, DE @ Firefly Music Festival*
07/05 – Ottawa, ON @ Ottawa Blues Festival*
07/09 – Buffalo, NY @ Rec Room
07/10 – Pontiac, MI @ Pike Room 07/13 – Chicago, IL @ Lincoln Hall
07/14 – Louisville, KY @ Forecastle Festival*
07/20-21—Mountain View, CA @ Shoreline Amphitheatre (Warped Tour)*
*festival date
Photo: Getty Images
Chat About YUNGBLUD Announces Release Date For New Graphic Novel 'Ritalin Club'