These Two New 2Pac Conspiracy Theories Have Fans Convinced He's Alive
By Peyton Blakemore
May 20, 2019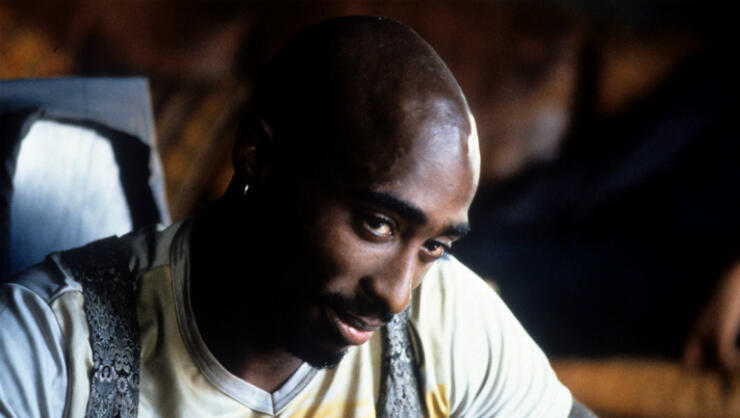 Buckle up, y'all — there are two (relatively) new 2Pac, a.k.a Tupac Shakur, conspiracy theories, and they're... let's just say, pretty out there.
On Monday (May 20), The Sun published a screenshot from Dutch artist Chilo's 2006 "Amsterdam to L.A." music video, and in it, a man that looks kinda-sorta a lot like 2Pac is shown sitting in a car, smoking a cigarette.
A clip of the music video was uploaded to YouTube on Sunday (May 19) by conspiracy theorists WiredUp TV. In their explanation video of the late rapper's alleged appearance in the 2006 music video, WiredUp zoomed in to a freeze frame of 2Pac in the car and wrote "modern day Tupac." The narrator then added, "Look at the guy next to the gentleman with the face furthest to us, the guy smoking a cigarette, that's Tupac Shakur. We have just got confirmation."
That's not the only theory circling the web about Pac, who was murdered in a drive-by shooting on Sept. 7, 1996, while driving in Las Vegas, but has long been rumored to have "faked his death." In another video, shared WiredUp TV, the site claimed Pac hinted at, and almost revealed, his plans to "fake his own death," during his last interview. The WiredUp TV narrator claimed someone from 2Pac's crew stopped him from saying too much about his plan to "end everything" during the interview.
In the YouTube video, which featured audio from Pac's 1996 interview, 2Pac can be heard getting cut off as he says "all i wanted to do was end everything..." However, he appears to finish his sentence after the mild interruption, saying "all I wanted to do was end everything and walk away from sh*t [...] I wanna get out of the game." While the excerpt if heard alone could seem like 2Pac was foreshadowing his death, in the rest of the interview, Tupac explains that that was his past mindset during the East Coast vs West Coast feud. "Instead of quitting, it made me come back more relentless," he added.
As previously reported, Last year, Suge Knight's son came forward to say that the revered rapper is alive and well, living in Malaysia. Back in October, Suge J. Knight posted a photo to Instagram that read, "Tupac is alive." He then shared a screenshot of two iMessages he received. "You said to [sic] much," read the first message. "Time for you to go." For his response, Suge replied, "The truth will be out and I'm not going anywhere." 
Later Suge posted two photos of Pac — one featuring the "Dear Mama" rapper beside 50 Cent and the other featuring Pac beside Beyoncé — that he alleged were taken after Pac's supposed murder. "He never left us," he captioned one of the photos. "They'll be after me soon smh." He then shared a video of himself in a panicked state, claiming that he was being followed. "Real sh*t bro, I'm not f**king playing," he said.
If that wasn't "proof" enough, Suge took to his Instagram Story to say "Tupac Is In Malaysia."
Photo: Getty Images
Chat About These Two New 2Pac Conspiracy Theories Have Fans Convinced He's Alive