Lil Nas X Postmates 'Old Town Road' Collaborator Billy Ray Cyrus A Maserati
By Peyton Blakemore
May 21, 2019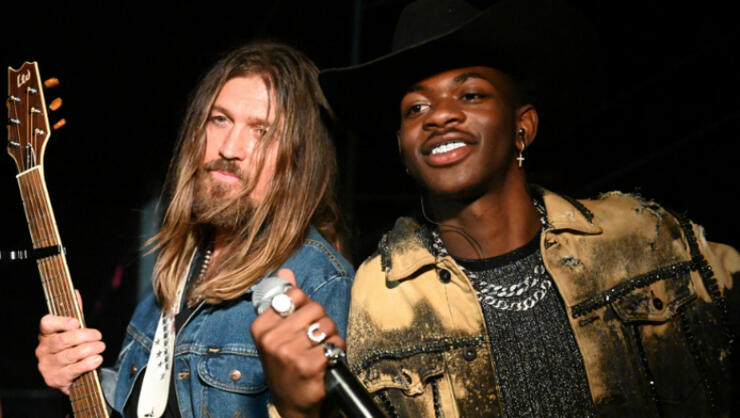 Lil Nas X is paying it forward.
After seven weeks of owning the charts with his hit "Old Town Road" remix, the up-and-coming artist decided to gift his collaborator, Billy Ray Cyrus —who hopped on the track after the song's original version was removed from the Country charts — a Maserati as a token of his appreciation. However, Lil Nas didn't just give the country crooner the luxury vehicle in a regular way. Oh no, he had it delivered by Postmates! (yes, I guess they deliver cars too now)
On Monday (May 20), Lil Nas surprised Billy at his Los Angeles-area home with the red convertible, alongside his Postmates driver. In a video, shared by TMZ, the 20-year-old rapper, who was outfitted in his usual country garb, is shown instructing Billy to go check out the surprise he got him as "Old Town Road" blasts through the car's speakers. To Billy's surprise, when he walks around the corner there's his brand-spanking new ride waiting for him. "Wait a minute. There's no way. Are you kidding me? Are you serious man?" Billy says as he hops in the driver's seat. "Holy smokes, man. Wow!"
Lil Nas and Billy dropped the music video for their viral hit "Old Town Road" remix on Friday (May 17). The video, which featured appearances from Chris Rock, Haha Davis, Diplo, Vince Staples, Rico Nasty, Youngkio, Jozzy, came nearly six months following the track's initial release. As fans know, after having his song "Old Town Road" pulled off the country charts for not being country enough, Lil Nas X returned to the top of the charts weeks later with a killer country remix, thanks to the help of Billy Ray, that catapulted the track to #1 on the Hot 100 chart, where's it's stayed for the last seven weeks.
Photo: Getty Images
Chat About Lil Nas X Postmates 'Old Town Road' Collaborator Billy Ray Cyrus A Maserati