Nipsey Hussle's Ex Wants Access To His Money; Plans To Take Family To Court
By Peyton Blakemore
May 22, 2019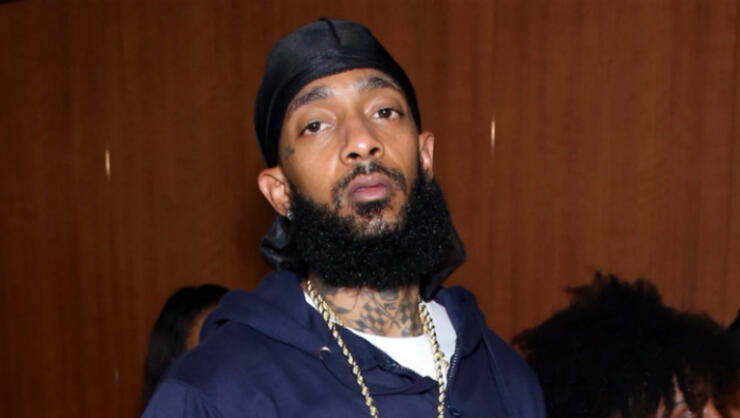 Nipsey Hussle's ex is reportedly planning to object the appointment of the late rapper's brother, Samiel Asghedom, as head of his estate. Not only that, but, according to TMZ, Tanisha Foster may also be gearing up to ask that she be appointed administrator, which would give her access to Nipsey's millions.
The late rapper's fortune is estimated to be worth $2 million and under California law would be shared equally between his two children — Emani, 10, who he shared with Tanisha and Kross, 2, who he shared with his longtime girlfriend Lauren London.
As previously reported, Samiel, a.k.a. Blacc Sam, recently filed legal docs asking to be appointed as the administrator of his younger brother's estate, given that Nipsey passed without a will. A judge is set to rule on his request June 10, TMZ reports.
As fans know, Tanisha is also fighting for custody of the daughter she shared with Nipsey. Most recently, a judge ruled that Nipsey's sister Samantha Smith will keep custody of his ten-year-old daughter for the time being. However, if Tanisha is eventually award custody of Emani, she would have some power in the handling of the money Emani's set to receive from her father's estate. Tanshia would also most likely be entitled to use some of the money to provide for Emani.
On Monday (May 20), Tanisha was videotaped storming out of the courtroom following the judge's ruling to give temporary custody to Samantha. While in tears, she told a photog she was "pissed off" about how the case turned out. Another court date to discuss the custody of Emani is set for July.
Nipsey's ex claimed Samantha took custody Emani after the rapper was killed on March 31 and refused to return her. In court documents, obtained by The Blast, Tanisha objected Samantha's earlier filing to be named guardian of the ten-year-old, citing her biological ties as reasoning she should be awarded custody.
Tanisha additionally claimed that Emani was visiting her father Nipsey on the day that he was murdered and said that Sam "unlawfully took the minor and as of this date, despite objectors demand, refused to return the minor to Objector." She added that she believes "the best interests" of Emani are not being served by Sam's "act of removing the minor from her mother's custody; and by refusing contact between minor and mother."
Samantha submitted an emergency request to be appointed as temporary guardian to Emani last month, but was denied shortly thereafter after a judge said there was "No urgency demonstrated for granting this relief prior to hearing on May 14th," The Blast reported at the time.
Photo: Getty Images
Chat About Nipsey Hussle's Ex Wants Access To His Money; Plans To Take Family To Court