Eric Church Sets Attendance Record At Nashville's Nissan Stadium
By Katrina Nattress
May 26, 2019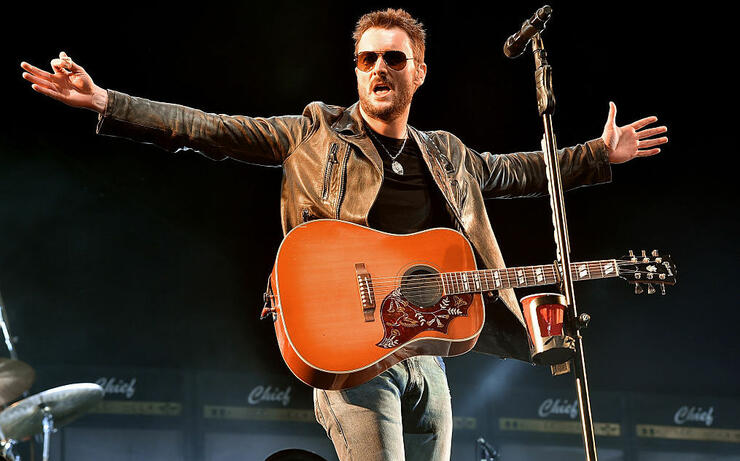 Eric Church has been traversing the country since January, playing two nights in a row in arenas all over the States as part of his Double Down Tour. However, there was one date on the itinerary that was extra special to the country star. On Saturday (May 25), he played his first ever headlining stadium show in his hometown of Nashville and broke Nissan Stadium's attendance record with 56,521 in the audience. The record previously belonged to Taylor Swift.
Aside from that milestone, the Chief also marks the first artist in the venue's 20+ year history to headline a solo show. Because the crowd didn't pay for opening acts, he made sure they got their money's worth by playing nearly 40 songs over the course of over three hours. Aside from his own hits, Church also treated fans to a medley of classic covers including snippets of Queen's "Bohemian Rhapsody," Travis Tritt's "It's Great Day to Be Alive," Neil Diamond's "Sweet Caroline," Billy Joel's "Piano Man," Def Leppard's "Pour Some Sugar On Me" and Joan Jett's "I Love Rock 'n' Roll."
Before closing out the show, the "Monsters" singer thanked his fans for making the historic night possible. "This night for me has been the most special thing of my entire career — to see this and to see what this is," he said. "To see people come to this town…it was almost like a damn resurgence, it was the greatest thing ever just to take over this town in the spirit of music. We don't have the most No. 1s, we don't sell the most albums, but this happens anyway. In my opinion, that's because of passion. We have passion for what we do."
Church wraps up his Double Down Tour June 28 and 29 at the Gorge Amphitheatre in George, Washington.
Photo: Getty Images