Ed Sheeran Wanted To Cover 'Lady Marmalade' With Bruno Mars, Justin Bieber
By Hayden Brooks
May 29, 2019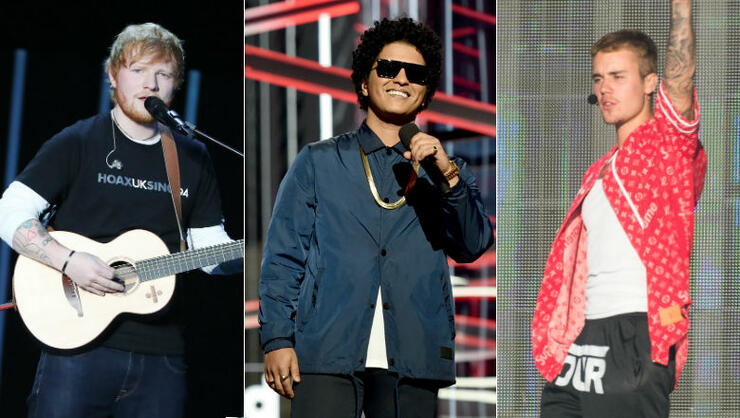 Despite the star-studded assists, Ed Sheeran does not look at No. 6 Collaboration Projects as his next album and found inspiration for the release, courtesy of 2001's revamp of Patti LaBelle's "Lady Marmalade." In fact, when the pop singer/songwriter sat down with Charlamagne Tha God for a recent interview, he admitted that he wanted to recreate the pop anthem with Bruno Mars and Justin Bieber.
"This project actually started with one idea I had. It was such a silly idea, I had an idea of doing ('Lady Marmalade'), I was like, 'You could get Bruno, Bieber and me on a record, how fun would that be?'" he recounted in the sit-down chat with Charlamagne, which was published on Tuesday (May 28). "The first person I rung was Bruno and he was just like, 'I mean, let's just do a song together, just us,' and that's how it happened. So then I did a song with Bruno, I did a song with Bieber. These individual songs started happening and then it just turned into a project. It was a really great experience putting the record together."
Sheeran said that the project is a definitive collection of songs made with acts that he genuinely has an interest in opposed to label-made team-ups. "I was on tour all of last year and just throughout the year any time I met anyone that I had been a fan of, I owned an album, it was the first time I had been able to be like, 'Let's get in the studio'. But not so much just to make a song, but more for me," he explained.
Scroll on below to hear Sheeran talk about the British music scene and reflect on 2011's No. 5 Collaborations Project, his first collaborations release. No. 6 Collaboration Projects drops on July 12.
Chat About Ed Sheeran Wanted To Cover 'Lady Marmalade' With Bruno Mars, Justin Bieber