Will.i.am Recalls Making 'Where Is The Love?' After 'Songland' Appearance
By Hayden Brooks
June 4, 2019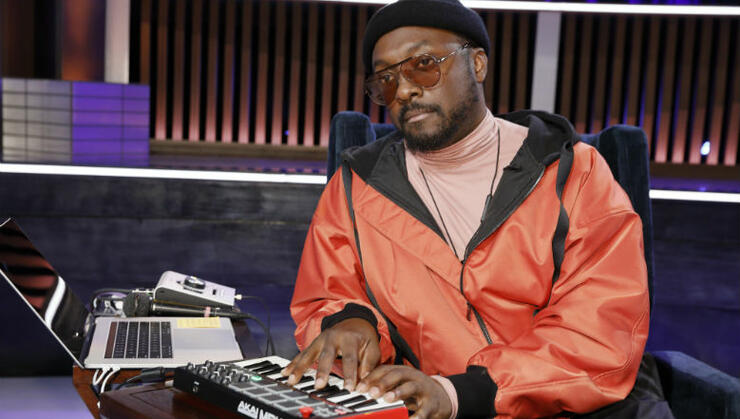 NBC's Songland is only into its second episode, but this week's guest star will.i.am decided to change up the pace of the series and reveal that he's going to record all three of the contestants' songs. For this week's episode of the Songland Podcast, which launched exclusively on iHeartRadio as a companion, the Black Eyed Peas frontman went into depth about the competition, which features producers/songwriting experts Ryan Tedder, Ester Dean and Shane McAnally, as well as the making of the group's 2003 smash, "Where Is The Love?" Meanwhile, one of this week's winning contestants, Adam Friedman, also spoke with host Dave Stewart about competing on the episode with his song, "Be Nice."
"When you're in a studio session, you're in a vacuum and you're trying to pull all your references to make that vacuum feel more adoptable for the world. Songland, you're in the world, so the world is plugged in to the process," will said of the series. "That's the reason why it's like a new type of experience because you're not moved from that vacuum."
Part of his vacuum experience for "Where is The Love?" involved going back and forth about collaborating with Justin Timberlake on the record. As per the super-producer, Taboo met JT during a club outing while the singer was still in *NSYNC. At the time, he was going through some heartbreak — presumably with Britney Spears — and will didn't know if he'd be the best fit for the song, which was already complete, by the way. "I don't know, Tab, we're saying like some pretty heavy stuff in the verse. We're saying Bloods and Crips and the KKK are terrorists. Like, the first person I think of is not Justin Timberlake from *NSYNC," he recalled, before admitting that he caved and invited Timberlake to the studio.
"He comes by the studio and he tells me his breakup situation. I was like, 'Let me hear your chorus.' So, he [sings it]. I'm like, 'Yo, what? Sing that chorus again.' He sings it again and we immediately recorded it and it changed our life," will said.
Fast forward to 2019, and Friedman, who is a Los Angeles-based songwriter and producer, will also see his contributions take life as a new BEP single. As someone that knows the ins and outs of the industry, the contestant knew the value of his track, which he wrote last summer after coming out of a rut.
"I wrote this song about a year before I submitted it," the 28-year-old aspiring star said during the podcast. "This particular day when I was writing this song, I was in the mindset of you know what I think and what I perceive how I see things, that is my reality. I have a choice in that. I get to choose. I get to choose that. Things happen in life and you get rejected or you get fired or probably for a reason but whatever, all these external things happen [and] internally you get to decide how you choose to feel about those things. That's your choice. And so, with this new vibe, I was kind of like, 'Man, this is really fun, you know, no matter happens I can spin it however I want.' I just kind of started living this new version of myself. This new me."
Much to his relief, "Be Nice" caught the attention of all four of the judges when Friedman played the track. Thankfully, the stage served as a rather comfortable space for the contestant. "Once I got up there, we started to talk really quickly [and] I just settled in. I was like, 'Okay, all right. I'm on a film set and I'm talking to some of my biggest idols [in] songwriting and producers.' It was really cool," he continued. "I felt like at home, actually. I felt really good. I felt really easy ad we just had some banter back and forth."
To hear more about "Be Nice," scroll on below to take a listen to the accompanying episode of the Songland Podcast and stay tuned for new episodes of Songland every Tuesday night at 10 PM ET on NBC!
Chat About Will.i.am Recalls Making 'Where Is The Love?' After 'Songland' Appearance