Luke Bryan Pays Tribute To One Of His Classics At 2019 CMT Music Awards
By Hayden Brooks
June 5, 2019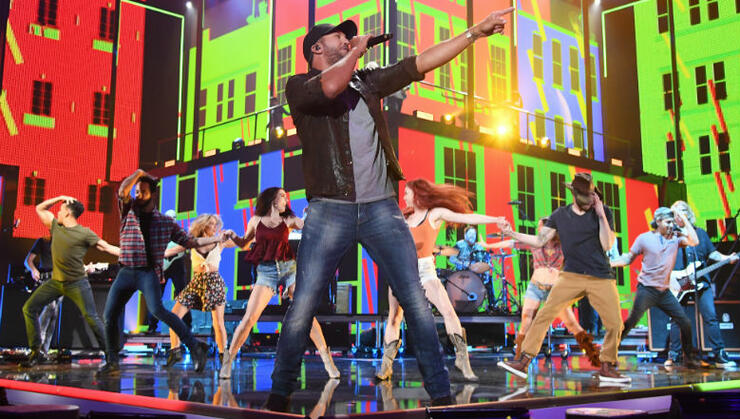 Luke Bryan was a late addition to the performance bill for the 2019 CMT Music Awards, which took place on Wednesday night (June 5), but that doesn't mean that the country titan didn't bring all he had for his performance of "Knockin' Boots," which paid tribute to his 2011 performance on the CMT stage.
For his number, the 42-year-old initially brought out a small group of women to show off some moves similar to his performance of "Country Girl (Shake It for Me)." Now, it wasn't an exact replica, but Bryan made sure to amp up the production with both male and female dancers alongside some silver metal chairs soon after. "Yeah, birds need bees and ice needs whiskey/ Boys like me need girls like you to kiss me/ 'Fishin' in the Dark' needs Nitty Gritty/ Under that pale moon/ Sweet tea needs that sugar stirrin'/ Small town nights need both ends burnin'/ Shades need drawin', hearts need fallin'/ Boots need knockin', knockin' boots/ Knockin' boots, me and you," he crooned during the hook.
Earlier this week, the American Idol judge announced that he is heading out for his annual "Farm Tour 2019," where the star will hit cities like Wisconsin, Michigan, Ohio, Kansas (for two shows) and Oklahoma. "The idea behind this tour is to bring full production concerts to small towns that would not see larger scale shows," he said in a statement. "Growing up in rural Georgia we had to drive to larger cities to see concerts. It is so exciting to watch each of these shows being built like a small city in itself in the empty pasture land of these farms. We can feel the pride from the people in these towns as well as the farmers and it takes everyone coming together to pull them off!!"
Chat About Luke Bryan Pays Tribute To One Of His Classics At 2019 CMT Music Awards