Sebastian Bach Invites Skid Row To Join Him On Anniversary Tour
By Andrew Magnotta @AndrewMagnotta
June 7, 2019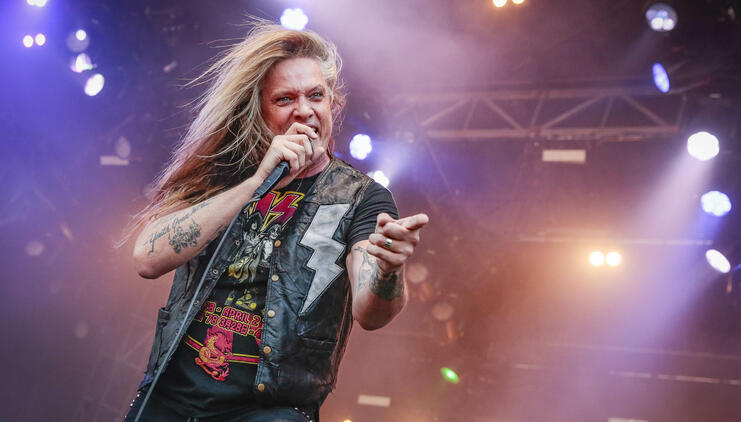 Despite years of getting the cold shoulder from his old band mates, Sebastian Bach is still willing to make a Skid Row reunion happen.
After the multi-platinum selling band repeatedly ignored his requests for a mea culpa or a collaboration on anything celebrating 30 years since their hit 1989 debut, Bach announced this week that he would celebrate the milestone with his own band.
On his upcoming 45-date North American tour beginning this August, Bach plans to play Skid Row's debut album in full. It will be the first time that album has ever been performed front-to-back for a live audience, says the singer.
But he's not determined to do it without the people who helped create that music with him, issuing an open invite to any of his former Skid Row band mates.
"The record is near and dear to everyone's heart the world over, and I'm finding this out by announcing this tour," Baz told Eddie Trunk. "We all know who the five guys are that made that record. I have an open invitation out to any of those guys, if they would like to get on stage and jam."
Bach added that he doesn't expect Skid Row to have a change of heart, but the invitation is still worth "throwing it out there."
"We're kind of getting older now," he pointed out. "So we can either s--t or get off the pot, I think the saying goes."
Skid Row has been certified 5x platinum, thanks to hit singles, "Youth Gone Wild," "18 and Life," "Piece Of Me" and "I Remember You."
For tour dates and more information, go here.
Photo: Getty Images
Chat About Sebastian Bach Invites Skid Row To Join Him On Anniversary Tour