Tony Iommi, Geezer Butler To Take Part In Black Sabbath Anniversary Event
By Andrew Magnotta @AndrewMagnotta
June 7, 2019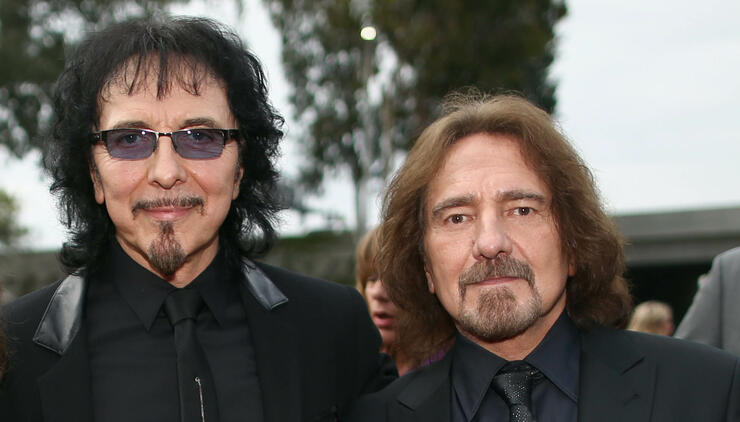 Black Sabbath's Tony Iommi and Geezer Butler are taking part in a retrospective conversation of their iconic band's career later this month, following the unveiling of Black Sabbath Bridge in the band's hometown of Birmingham, England.
The conversation, which will be moderated by journalist Phil Alexander, is scheduled for June 26 at the Birmingham Museum & Art Gallery from 7 p.m. to 9:30 p.m.
There are just 100 "golden tickets" available for the event for £100 a piece, plus fees. Each ticket reportedly comes with a poster, signed by Butler and Iommi and some other goodies.
Ticket holders also get access to a late night viewing of the "Black Sabbath - 50 Years" exhibition and a complimentary drink that evening.
The exhibition celebrating the band, its fans and its legacy runs from June 26 - September 29.
June 26 will be a full day for the Black Sabbath co-founders. The afternoon before the exhibition opens, the guitarist and bassist christen a bridge in downtown Birmingham the 'Black Sabbath Bridge.'
The City of Birmingham has also announced a "heavy metal bench" will be permanently displayed on the bridge, depicting the band's four co-founders, Butler, Iommi, Ozzy Osbourne and Bill Ward.
The event will come a few days after Butler's new band, Deadland Ritual, featuring Matt Sorum, Steve Stevens and Franky Perez completes its first European tour.
Last month, Butler, Iommi and Ward were in Los Angeles, accepting a Lifetime Achievement award from the Recording Academy in honor of their revolutionary career.
Guitarist Zakk Wylde and his famed tribute band Zakk Sabbath also announced plans last month to pay tribute to 50 years since the band's debut album by recreating the heavy metal masterpiece in the same fashion in which it was originally recorded, directly to two-inch tape and in just 24 hours.
Photo: Getty Images
Chat About Tony Iommi, Geezer Butler To Take Part In Black Sabbath Anniversary Event