Cardi B Strips Down To Give Fans A 1st Look At Her 'Hustlers' Character
By Peyton Blakemore
June 10, 2019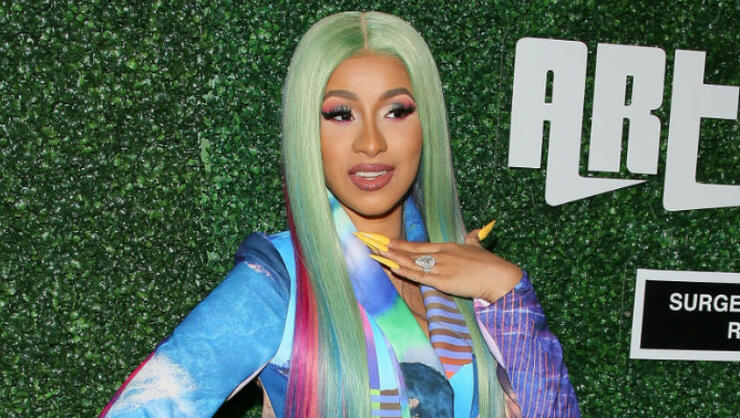 Cardi B's days as a stripper are long behind her, but that doesn't mean she can't play one on screen.
On Sunday (June 9), the "Press" rapper gave fans the first look at her character Diamond, a stripper, from the forthcoming film Hustlers. "Y'all ready for DIAMOND to come to a theater near you this fall ? HUSTLER MOVIE," Cardi captioned a sexy selfie of her wearing a revealing, cut-out bodysuit and sky-high heels.
As previously reported, the 26-year-old rapper is set to make her big screen debut in the movie, which, ironically, is all about former strippers banding "together to turn the tables on their Wall Street clients." Hustlers is inspired by the 2015 viral New York Magazine article about a group of women conning the men they once served, also features Constance Wu, Lili Reinhart, Keke Palmer, Julia Sties, Mercedes Ruehl, Lizzo, and Jennifer Lopez, who is set to play the ringleader of the band of ladies.
Earlier this year, Cardi spoke about returning to her old life for the feature film, telling Entertainment Tonight she taught her co-stars a few things. "This movie is something I can relate [to]," she shared. All the actress in the movie, I can tell them, like, 'No, no, no. This is how it goes." Cardi added, "The club that the movie is based on that's... the first type of club that I worked in... This was my life."
Back in 2018, Cardi opened her life as a stripper, saying she's not ashamed of her past. "People say, 'Why do you always got to say that you used to be a stripper? We get it.' Because y'all don't respect me because of it, and y'all going to respect these strippers from now on…" she told Cosmopolitan. "Just because somebody was a stripper don't mean they don't have no brain."
Photo: Getty Images