Ari Lennox Talks J Cole, 'Shea Butter Baby,' Erykah Badu Comparisons & More
By Lauren Crawford
June 12, 2019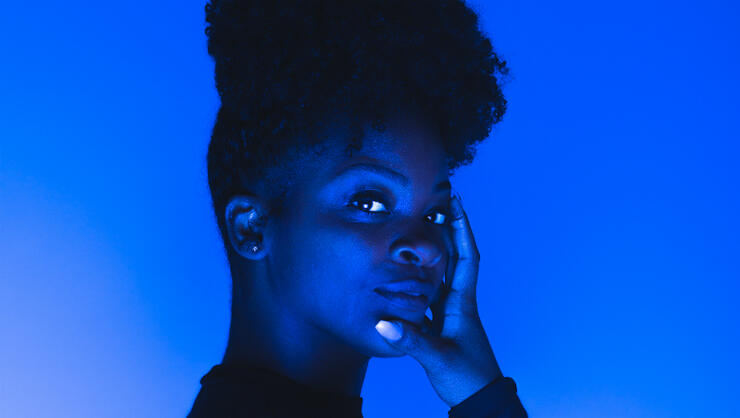 In short, Ari Lennox is everything that is good about R&B.
She brings that nostalgic, soulful sound you can't help but enjoy, while tapping into the minds of every twenty-something Black female with her blunt, all too relatable lyrics, and her smooth yet raspy voice. While she's found it hard to escape those prevalent Erykah Badu comparisons (which she's not mad about) there's only one Ari Lennox and she's charting her own path.
Being the only female act on J. Cole's Dreamville label doesn't happen by accident. And while Ari's extremely humble about her Cole-backing, after one listen to any one of her songs, it's easy to know why the legendary rapper signed the R&B singer to his hip-hop heavy, male-dominated roster.
With a new single, "BMO," and her recently released debut album, Shea Butter Baby, out now, Ari sat down with iHeartRadio to discuss the inspiration behind her music, the genre of R&B, her love for Miss Badu, and a whole lot more.
Check out our Q&A with the rising star below!
How has your life changed since the release of Shea Butter Baby?
Yeah, I'm noticing like a lot of things. Just walking around different places all over America. People recognize me at the beauty supply store, in the lobby downstairs the chef recognized me. And I just never thought, maybe a this, a guy who looked like that would know me.
I heard the album referred to as a "window into young black womanhood," and to me that's exactly what it is. Was that your intent in creating the project?
Honestly, I was just creating. Like I didn't even realize what I was going for until it was wrapped up. Shea Butter Baby seemed like the most fitting title for the project because, nothing made sense other than that. And then, once the title stuck, I think everything just kind of fell into place. But yeah, it is all of those things. It is like a celebration of blackness, and womanhood, and independence, and just empowerment. [It's a celebration of] our natural bodies and natural hair. I mean it turned out to be all of that, but I wasn't intentionally trying to do that.
What does the album mean to you?
Shea Butter Baby means empowerment. It means like talking my sh*t. It means just being proud of like who I am. Being proud of all my fellow black sisters and letting people know about the struggle that we face and unapologetically. And it's just like owning our sh*t. It's for us. I made it for, us, you know.
Let's talk about "BMO." What was the influence behind that track?
"I would say the influence of 'Break Me Off' is simply just getting broke off. The term is definitely inspired by The Roots and Musiq Soulchild, but the vibe of the song is definitely inspired by Missy Elliott, Tweet. But, yeah, it's just a fun sex song. Nothing too risky or anything. Just playing around with my friends in the studio. Ron and Omen, they just had this fire beat and the words came super easy, because the beat was crazy. Omen killed the beat, and then Ron added some fireness to it.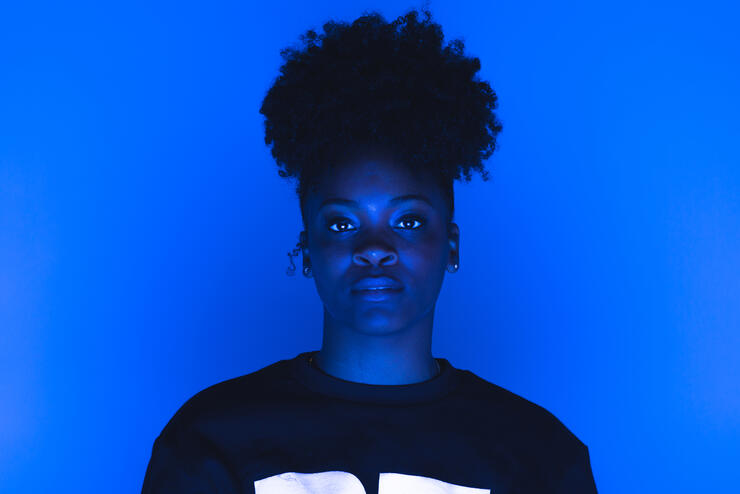 What does the genre of R&B mean to you?
Oh, it's my blanket, it's my bed, it's my, it's my life, it's the foundation of like who I am as an artist. I studied these artists. These are my favorite artist from SWV to Anita Baker to Aaliyah, to Missy Elliott, Erykah Badu, Floetry, D'Angelo, Bilal, Deborah Cox, Chrisette Michele, Jazmine Sullivan. Like everybody that I've ever grown up [listening to or] was inspired by is the reason for this album. Because, I mean I just love soul music so much, I love R&B so much.
I feel like [R&B has] been missing a lot lately, like that real nostalgic sh*t. So, it's just natural to just bring that. That's all I can do is be natural when I create.
Did you always know you wanted to make R&B music?
I doubted myself. I thought maybe there was no room for R&B. But, once I finally just started following my heart and stopped caring what everyone else was thinking. I noticed there was like a whole lane like wide open. Like everybody is doing a whole bunch of other things, but the core of what created all of music is like soul. And, a lot of people to me neglect that. So, it was just easy to just, I don't know, just do it. It's been working.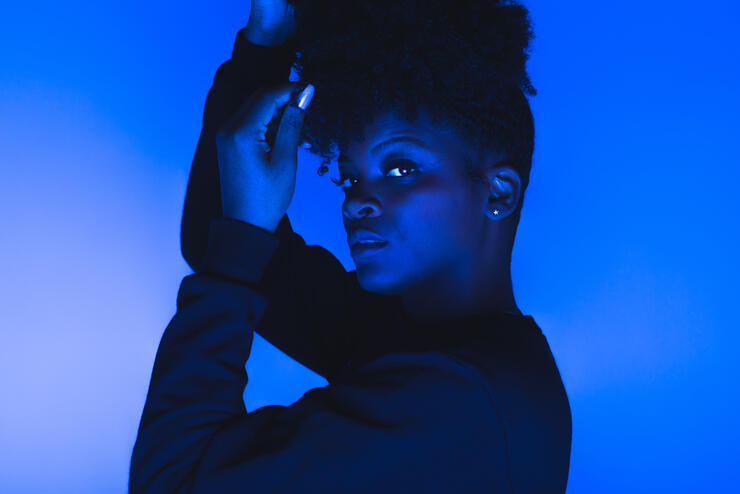 You're signed to Cole's Dreamville label, so he's your boss, but would you say he's also your mentor?
Definitely like a therapist, mentor, brother. Yeah, he's great, he's just awesome.
How did you two meet?
I met him through Omen. We did a song together, and uh eventually my music just started circulating, and [Cole] flew me out to LA.
Is he one to hand out advice? If so, what's a piece of advice he's given you that has stuck with you?
I guess like some personal stuff [...] He helped me kind of rework the way or rewire my thinking process regarding some things I felt made me ignorant about certain things I don't want to admit. So, yeah, I appreciate him for making me a lot more optimistic towards a certain subject. And I feel like a lot of people need Cole to kind of wake them up, shake them up, and smack them a bit. He never smacked me, but I feel like a lot of artist need it. You know when they say some wild sh*t, that's not literally, but a mental slap.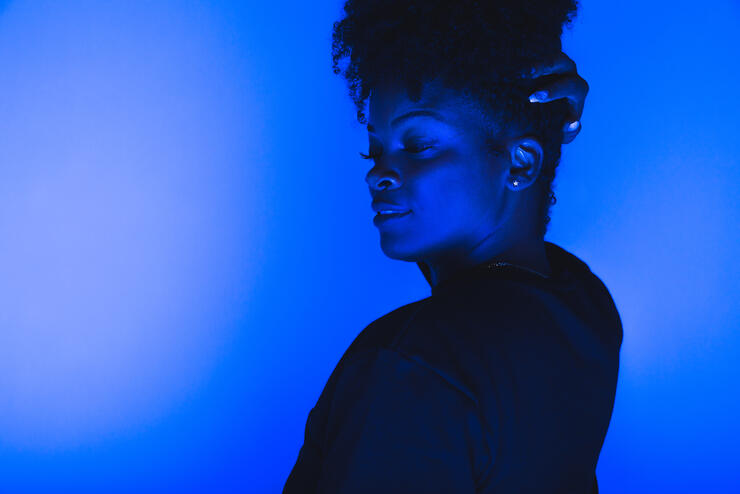 A lot of people love to compare you to Erykah Badu. I know you don't like to be compared to anyone's favs (per one of your previous tweets), but it must feel good to be compared to such a legend as Erykah Badu, right?
She is legendary. It's really great. I just hope she doesn't hate me [for the comparisons]. I want to meet her. So hopefully it works out that she doesn't hate me for it, all of this. I just hope that one day I can create something as legendary as Baduism and Mama's Guns. So, if people are going to compare, I rather it be when I feel I've created something as legendary as those two projects.
After Shea Butter Baby, what other stories are you looking forward to telling in your music?
I'd like to expand more on losing a loved one. I lost my brother in 2012, and so I'd like to sing about him. And probably more about my anxiety disorder as well. Because a lot of people don't know Static is about my anxiety disorder, but would probably be a little bit more blunt. Like you know coming back to that.
Also [I'd like to make] more records that are like pro-loving the natural nose, loving chocolate skin, and just blackness and natural hair. Like, I want to even be more blunt about my feelings of us as black women kind of getting ignored and neglected in society a lot. So, yeah, I'd like to dig deep into that. Maybe, write a song about my dog. That would be nice.
This conversation has been edited for clarity and length.
Photos: Katherine Tyler for iHeartRadio