Justin Bieber Backtracks On Tom Cruise Fight Challenge: He'd Kick My Butt
By Paris Close
June 13, 2019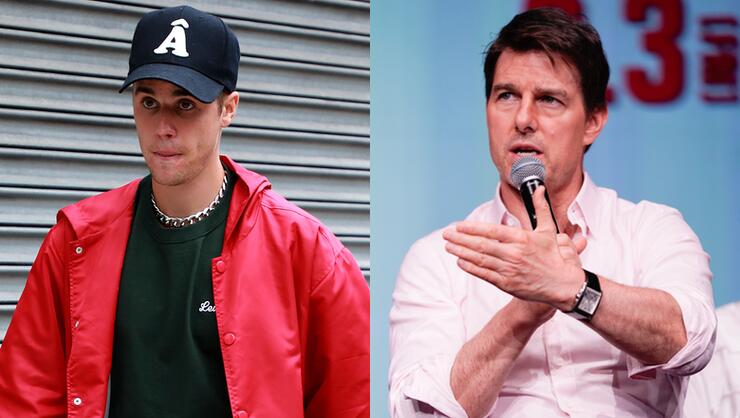 Justin Bieber no longer wants smoke with Tom Cruise.
Bieber was out in Los Angeles leaving his wife Hailey Baldwin's fashion line office on Wednesday (June 12) when TMZ paparazzi photographers questioned the "Sorry" crooner about challenging the 56-year-old to a mixed martial arts fight over the weekend. In the clip, in which Bieber seems much more modest about the potential throwdown, he eventually confesses he was "just playing."
"It was just a random tweet. I do that stuff sometimes," the singer said in the video. "I think he would probably whoop my a** in a fight," he went on, adding of the action star's "dad strength." (See the full clip here.)
The "Cold Water" musician had a different energy this Sunday (June 9) when he invited Cruise to a UFC cage fight on Twitter. "I wanna challenge Tom Cruise to a fight in the octagon," Bieber tweeted, adding, "Tom if you don't take this fight your [sic] scared and you will never live it down."
Bieber even went as far as proposing UFC president Dana White put the match together. Cruise, on the other hand, hasn't bothered to acknowledge the challenge.
It's anyone's guess what provoked the Canadian's stunt in the first place, but considering Cruise has built a reputation for beating up guys nearly twice his size in a bevy of high action films, we think the Biebs made the right decision to sit this one out.
Chat About Justin Bieber Backtracks On Tom Cruise Fight Challenge: He'd Kick My Butt