Rage Against The Machine Reunion Could Happen Eventually, Morello Says
By Andrew Magnotta @AndrewMagnotta
June 18, 2019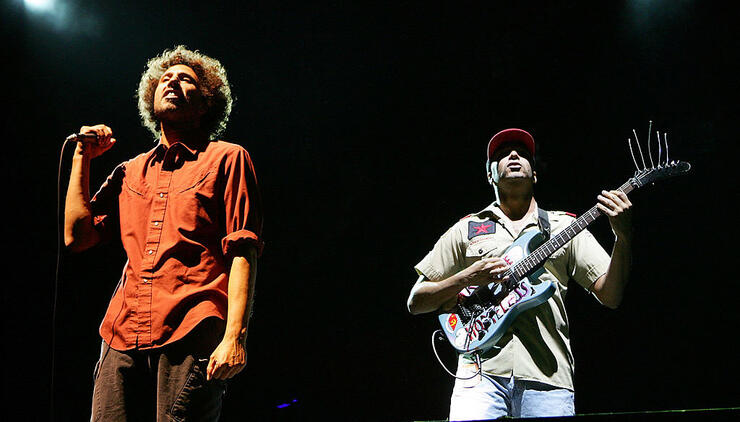 Tom Morello believes a Rage Against the Machine reunion could happen, but there's still "no movement" to report in that area.
Morello laughed off an RAtM question earlier this month, saying downcast Rage fans should "start forming bands themselves."
And while he's not backing down from those comments, he added in a recent interview with Alternative Press that he's still on board for a reunion. He also agrees with the sentiment that the world needs Rage right now.
"I think there's never been a time more right for Rage Against the Machine, and to have music..." he said. "I've tried throughout my career to make music that is uncompromising both musically and lyrically — that's exactly what Rage Against the Machine did. And if a Rage show ever breaks out, I'd be happy to play guitar, yeah."
Morello and the RAtM rhythm section of Tim Commerford and Brad Wilk have never stopped playing together since forming the groundbreaking rap-rock band in 1991. When Rage Against the Machine broke up, the trio formed Audioslave with Chris Cornell, and then Prophets of Rage with B-Real, Chuck D and DJ Lord.
RAtM front man Zach De La Rocha is the lone holdout. Despite somewhat in contact with his former band mates, the De La Rocha just doesn't want to reprise Rage.
"There's no movement on that front, sorry to say," Morello said. "While fans lament the fact that Rage Against the Machine doesn't exist, I'd say there's a lot of music out there that speaks to these times, including my Atlas Underground [solo] record, but not exclusively.
"If you are missing a Rage Against the Machine element in the world, then form a band," he repeated.
Morello just completed the last date on his solo tour. Prophets of Rage is set to reconvene in July and August for a handful of performances. The guitarist has added that Prophets is planning to record again soon.
Photo: Getty Images
Chat About Rage Against The Machine Reunion Could Happen Eventually, Morello Says