Ten Political Podcasts For The Savvy Citizen
By Diana Brown
June 19, 2019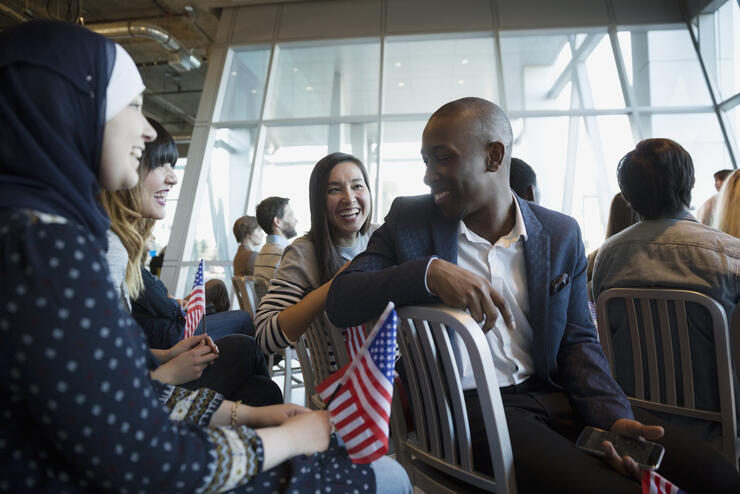 Politics may be tedious, controversial, full of legalese most regular people can't understand, and so ripe with screaming opinions that you just want to throw up your hands and cover your ears forever, but in politics as in life, knowledge is power, and it's important to keep paying attention because politics shape our future and have a direct impact on the quality of our lives. So don't bury your head in the sand. Instead, let these ten political podcasts keep you up-to-speed, take you on a deep dive, and help you nerd out on the news. Before you know it, you'll be holding your own in any civics conversation that comes up when you're drunk at a bar, exactly like the Founding Fathers did. You patriot, you.
While morning news brief podcasts are fairly common these days, the forefather of the trend is The Daily: 20-minute episodes of conversational news updates perfect for a quick listen. Michael Barbaro, the celebrated journalist who has covered politics for the Washington Post and the New York Times for decades, started The Daily as an opportunity to welcome the average Joe into the national news conversation with friendly interviews and a more narrative reporting style. The result is this universally admired podcast that takes a comprehensive and impartial look at Russian hacking, culture wars in Poland, the protests in Hong Kong, and so much more.
Nate Silver and his team's analysis of polls has been a perennial feature in every midterm and national election since the FiveThirtyEight website launched in 2008, and for good reason: polls are important to get an insight into how the American people are feeling about elected officials, candidates, and policies. However, as we've seen in the past, the results can be skewed in numerous ways, from who's being asked to how they're being asked to how the questions are being framed and so on. FiveThirtyEight Politics takes some of the guesswork out of poll interpretation, with in-depth discussions to determine how accurate their results might be and what the numbers can mean for election outcomes. If you like to nerd out on the numbers, this is the podcast for you.
Perfect for the policy wonk, Vox's The Weeds takes a deep dive into the policies and legislation that affect our lives the most. Healthcare, tariffs, housing, tax reform, the justice system and more are covered in-depth by Vox's Ezra Klein, Matthew Yglesias, and Sarah Kliff, as they look at what historical shifts and patterns brought legislation to the table in the first place, what the policies actually mean for the country, and what the average American really wants from them. For thorough examinations of the economy and the finer points of trade talks, it's time to tune in to The Weeds.
The WSJ Opinion: Potomac Watch, a podcast by the highly respected Wall Street Journal, is hosted by stellar reporters: Pulitzer-Prize winning Paul Gigot and Bradley Prize-winning Kimberly Strassel. They examine the daily news with a discerning eye, covering economics, Julian Assange, Robert Mueller, 2020 presidential candidates, and more. If you're looking to get a truly balanced look at American politics, Potomac Watch is worth adding to your list.
Pod Save America is a frank and informal podcast hosted by Obama administration advisers and speechwriters Jon Favreau, Jon Lovett, Dan Pfeiffer, and Tommy Vietor. They are also joined by guest politicians, comedians, journalists and activists. Their self-described mission is to be a place where regular people can talk about politics and "understand not just what is happening, but what you can do about it." With episode titles like "Impeach 'Em If You Got 'Em" and "Legislative Cosplay" covering topics from Iran to Andrew Yang to immigration and everything in between, Pod Save America proves why it's one of the most beloved political podcasts in the game.
Highly respected by politically savvy people on both sides of the aisle, NPR's Politics Podcast features illustrious political correspondents and Congressional reporters doing weekly roundups discussing the biggest stories of the week, as well as peppering in shorter episodes spotlighting presidential candidates or taking a harder look at individual incidents. Essential listening for the well-informed citizen.
If balanced coverage is what you're looking for, Left, Right & Center is literally the choice for you. Each episode features a commentator representing the left, right, and center (hence the name) of the political spectrum having a civilized debate. Hosts include Rich Lowry, editor of the National Review, Arianna Huffington of the Huffington Post, and Josh Barro, senior editor at Business Insider, discussing a wide variety of topics from border control to the terror attacks in New Zealand. A great way to get all three sides of the story and to make up your own mind.
POLITICO's Nerdcast offers an easy way to delve into deep political topics like campaign strategy, Federal Election Commission reports, and the electoral map, as well as zeroing in on subjects like the debate criteria, what democratic socialism really means, and candidates' fundraising capabilities. Hosted by Scott Bland and featuring top POLITICO reporters as guests, Nerdcast is a solid addition to any political junkie's subscription list.
Hosted by Black Lives Matter activist and organizer DeRay Mckesson, Pod Save The People is a substantive series that looks at social justice, politics, and culture, focusing on overlooked news stories and underrepresented issues like illegal police raids, diversity training, the Tulsa Race Massacre of 1921, and the effects of the War on Drugs. Mckesson also has thorough talks with guests like Feminista Jones, Edward Snowden, Trevor Noah, and Cory Booker about black feminism, the pharmaceutical industry, climate change, mass incarceration and more. Informative and essential listening.
Politics don't happen in a vacuum; the past is prologue, as Shakespeare said. But in this podcast, the past is the point. My History Can Beat Up Your Politics goes back in time to put contemporary politics into a historical context, comparing today's elections with wild election cycles in the past, explaining the 25th Amendment, revisiting Watergate, and bringing back a lot of names from elementary school many of us probably forgot, like James Buchanan, Thomas Paine, and Woodrow Wilson. Packed with information, it's also truly fascinating to see the pattern of history play out this way, providing a whole new perspective on today's issues.
People of every political leaning are feeling a newfound need to get more involved in politics, but some of us maybe didn't pay that much attention in social studies and aren't quite sure where to start. If that's you, never fear! Civics 101 cuts to the essentials with informative episodes examining why we have a two-party system, explaining what the Senate Majority Whip actually does, providing detailed analysis of each of the amendments, and so much more. A solid primer for the political newbie and a great refresher for the political nerd, this one covers all the bases.
If you want to be sure you're listening to the podcasts everyone else is checking out, iHeartRadio has you covered. Every Monday, iHeartRadio releases a chart showing the most popular podcasts of the week. Stay up to date on what's trending by checking out the chart here. There's even a chart just for radio podcasts here, featuring all your favorite iHeartRadio personalities like Bobby Bones, Elvis Duran, Steve Harvey and dozens of others.
Photo: Getty Images
Chat About Ten Political Podcasts For The Savvy Citizen