Skid Row Not Interested In Sebastian Bach's 30th Anniversary Party
By Andrew Magnotta @AndrewMagnotta
June 20, 2019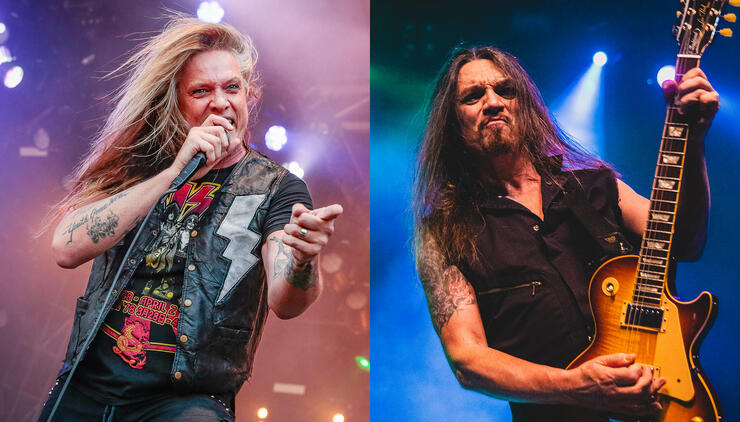 Not that it will make people stop asking, but Skid Row still has no interest in reuniting with Sebastian Bach, even for the 30th anniversary of the multi-platinum selling album the band made with its former front man.
Earlier this month, Bach announced plans to tour North America this summer and fall to celebrate Skid Row's debut, which served as a major break through for him and his then-band mates.
Bach was fired from Skid Row in 1996. Since then his former band mates have barely wavered in their commitment to never speak to or work with him again.
But Baz recently extended yet another olive branch to Skid Row, saying any of his former band mates would be welcome to join him. The comment prompted a reporter from Finland's Kaaos TV to ask Skid Row guitarist Doug "Snake" Sabo in a recent interview if he saw Bach's invitation.
"Well, yes, I did," Sabo confirmed. "I'm working with my band."
He later emphasized that "No," he would not be getting on stage again with Baz. Though he agrees that performing full albums live with Skid Row at some point isn't a bad idea.
Bach touted his 30th anniversary tour as the first time the album has ever been performed live in its entirety.
Former Skid Row drummer, Rob Affuso, is a good bet to drop in on a few of Bach's upcoming performances. He's performed with Bach live in recent years and even tried to broker a reunion between Bach and Skid Row bassist Rachel Bolan.
Photos: Getty Images
Chat About Skid Row Not Interested In Sebastian Bach's 30th Anniversary Party