Here's Why Led Zeppelin Is Returning To Court In "Stairway To Heaven" Trial
By Andrew Magnotta @AndrewMagnotta
June 24, 2019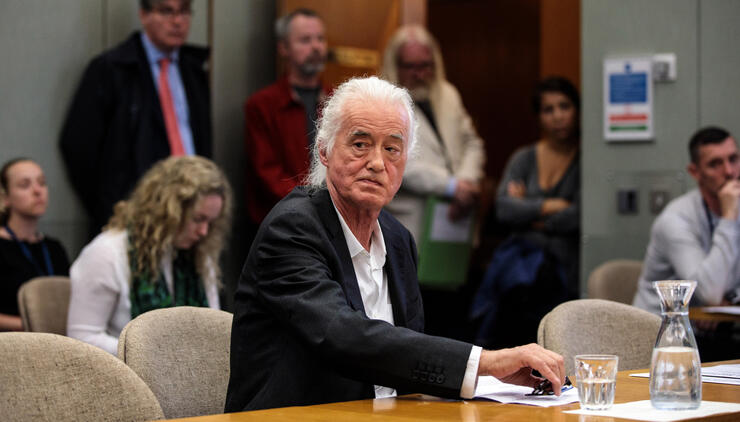 A major stumbling block in Led Zeppelin's defense in the copyright case against "Stairway to Heaven" was the fact that the judge in the case did not allow recordings of either "Stairway" or the song the band allegedly ripped off to be played in court.
Instead, during the trial a pianist performed both songs, as they were transcribed on a copy of sheet music, Bloomberg reports.
The judge justified this because before 1978, copyright laws applied only to sheet music. Songs were registered through paperwork at federal offices in Washington, D.C.
But copies of that music were rarely submitted by the artists themselves and were often incomplete, handwritten versions of recorded music created by record label representatives who transcribed by listening to the recordings. As such many defining characteristics of much pre-1978 music is not represented in "deposit copies."
The attorney for plaintiff Randy California's estate, Francis Malofiy, pointed this out in the initial "Stairway" trial, noting that several parts of the song are not depicted in the copyrighted sheet music, including the intro — the part allegedly stolen from Spirit's song "Taurus" — and Jimmy Page's iconic guitar solo at the end of "Stairway."
Page conceded this point during cross-examination, and it seems to weaken or even invalidate Led Zeppelin's case.
It also begs the question: How much music from before 1978 is actually copyright protected?
If the answer is 'nothing that's not included in the deposit copies,' then Led Zeppelin has a lot more problems than a multi-million dollar lawsuit from a mostly unknown artist. It would mean that "Stairway to Heaven" itself isn't entirely copyright protected, as well as most of the band's catalog.
According to Bloomberg's Vernon Silver, deposit copies for many iconic rock songs filed away in Washington, D.C. do not include crucial elements of those compositions. For example, Silver reports that the deposit copy for the Eagles' "Hotel California" doesn't include transcription of the dueling guitar solos. The copy for Bruce Springsteen and the E Street Band's "Born to Run" doesn't include Clarence Clemons' iconic saxophone solo.
Logic dictates that there should be a more holistic view on copyright of works recorded before '78.
But that puts Led Zeppelin in an awkward position, and its attorneys are changing tactics. They now argue that the portions of "Stairway to Heaven" not outlined in the deposit copy became protected before changes to copyright law went into effect in '78.
If successful, this new argument would set a new precedent for interpretation of copyright law. But it could also expose the band to a new, even stronger challenge against "Stairway to Heaven," especially since the jury in the initial trial determined that Page had heard "Taurus" before beginning to compose the music for "Stairway."
If Malofiy is able to get a retrial for California's estate and play recordings of both songs back-to-back in court, Zeppelin could potentially have to give California co-writing credit on "Stairway to Heaven" and his estate millions in damages. Malofiy appears certain of a victory.
Reuters reports that an 11-judge appeals court panel is set to reconsider the case later this year, specifically in terms of whether to expand copyright protection.
Photo: Getty Images