Could Chris Adler's Live Return Mean He's Done With Lamb Of God?
By Andrew Magnotta @AndrewMagnotta
July 3, 2019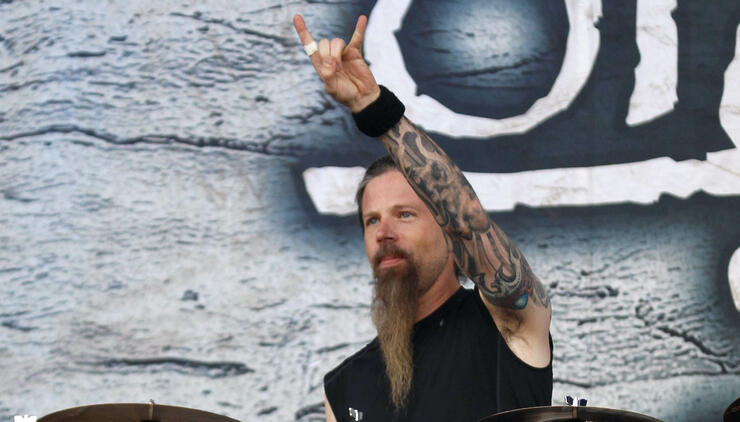 Co-founding Lamb of God drummer Chris Adler has not performed live with his band in a year due to lingering effects from injuries he sustained in a 2017 motorcycle accident.
While Adler is still listed as a band member, there's been very little information about his status in the group. When LOG front man Randy Blythe was asked this spring about Adler's pending return, his response was wholly discouraging.
But now, The PRP is reporting that Adler is poised to return to the stage this October ... just not with Lamb of God.
Alder has provided few updates about his health since revealing the extent of his injuries, though he has also said in social media posts that he has been playing drums regularly.
The first date Adler is set to play for a run of shows called 'Hail! Rockstar Extravaganza' is set for October 19 in Moscow, Russia. He's part of an all-star band featuring former Megadeth bassist James Lomenzo, former Machine Head guitarist Phil Demmel and Exodus vocalist Steve 'Zetro' Souza.
Lamb of God's final live date of the year is six days earlier at Exit 111 festival on October 13.
If Adler plans to come back to Lamb of God, it makes sense that his return would not come in the middle of a tour. The band has been performing with drummer Art Cruz for a year now, and LOG's grueling live set appears to be part of what forced Adler to leave the band's tour last summer and focus on his rehabilitation.
But still, Blythe's comments suggest there's more to Adler's departure than just his health. The band members have always been honest about the personal challenges they have faced in their years together. It's possible the founding lineup of the band has just run its course for now and the band is waiting for the right time — perhaps a new album — to make an announcement.
It's also possible we're reading too much into it. Adler's accident was serious, and while his bones have been put back together, it's possible that he's dealing with chronic pain now and some days are worse than others.
Adler did perform with Lamb of God following his accident. It may just be that managing that pain while on the road with a band that tours as often as LOG is just unfeasible.
Maybe Adler is planning to return to Lamb of God next year.
Hopefully we'll learn more soon.
Photo: Getty Images
Chat About Could Chris Adler's Live Return Mean He's Done With Lamb Of God?