Former Guns N' Roses Drummer "Alive And Well" After Stabbing Incident
By Andrew Magnotta @AndrewMagnotta
July 8, 2019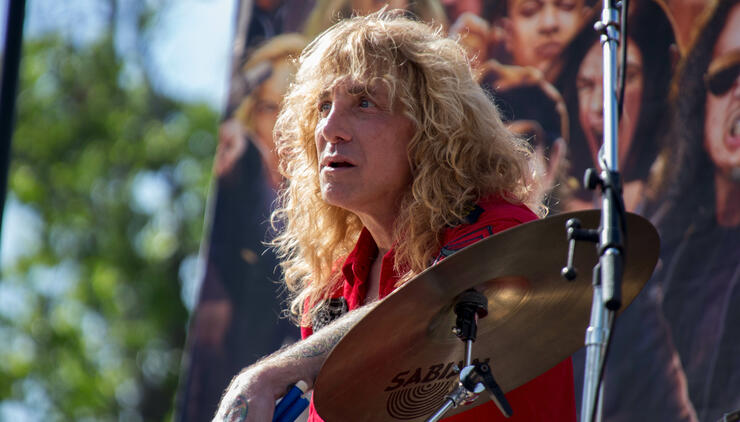 Former Guns N' Roses drummer Steven Adler is apologizing for the outpouring of concern surrounding an June 27 incident in which he was rushed to the hospital after apparently stabbing himself in the stomach.
The initial report was met with a flood of worry for the Rock and Roll Hall of Famer, who has openly struggled with drug addiction and depression in his career. But reps for Adler later corrected the record, clarifying that the injury was a "very minor, superficial wound," and most importantly, an accident.
In a video shared to Adler's social media (which you can see below), the drummer can be seen smiling next to artist Tommy Hollenstein. Adler reiterates that he's perfectly healthy and that none of his upcoming shows have been cancelled.
"I'm really sorry about all this media confusion that's been going on," Adler says. "I'm alive and well. I'm looking forward to seeing everybody July 12 at the Golden Nugget in Vegas, and July 13 at this motorcycle rally in Oregon, which is gonna be bad to the bone. I love everybody and I can't wait to see you and hug everybody. Thank you so much for your love and support."
Adler, was the drummer for Guns N' Roses' from 1985 - 1990, and recorded on the band's hit Appetite for Destruction and GN'R Lies albums. His all-star band, Adler's Appetite, pays tribute to his remarkable legacy with GNR.
Though he did not rejoin Guns N' Roses for the band's 'Not in This Lifetime' reunion tour, he did appear on stage with the band at several gigs. Adler has urged fans to petition the band to bring him back full-time.
Take a look at Adler's tour dates below. Go here for more information.
Steve Adler's 2019 Tour Dates
July 12 — Las Vegas, Nevada, at the Grand Events Center at the Golden Nugget
July 13 — Baker City, Oregon, at Pine Valley/Baker County Fairgrounds
Aug. 16 – Kansas City, Missouri, at The Scene KC Rock Bar
Aug. 18 — Jackson, California, at Jackson Rancheria Casino Resort
Sept. 20 — Hinckley, Minnesota, at Grand Casino Hinckley Amphitheater
Dec. 28 — West Hollywood, California, at Whisky A Go Go
Photo: Getty Images
Chat About Former Guns N' Roses Drummer "Alive And Well" After Stabbing Incident