ASAP Rocky Being Held In Swedish Jail With Inhumane Conditions: Report
By Peyton Blakemore
July 9, 2019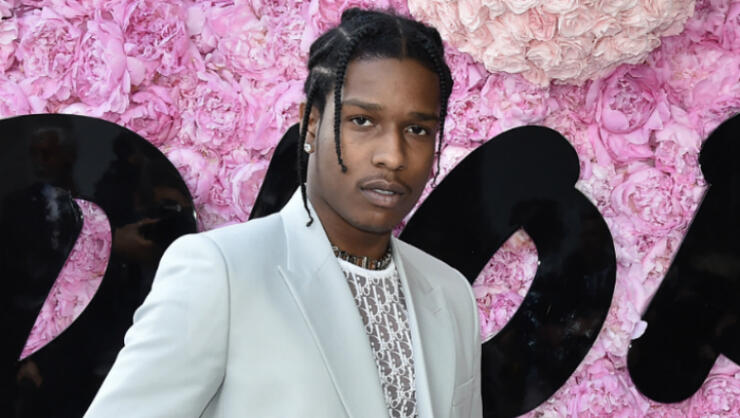 A$AP Rocky is reportedly being held in a Swedish jail with "shocking inhumane conditions."
According to TMZ, the 30-year-old rapper is sleeping on a yoga mat with no blankets in a facility that is filthy and "disease ridden." Furthermore, insiders claim there is a prisoner in the cell next to Rocky's who has "severe mental issues who slams his head against the concrete wall and hurls feces every which way." (The feces is reportedly not cleaned up.) The source added, the water "is not clean and the food is not edible. For the first five days, A$AP ate an apple a day, and that's it."
As previously reported, Rocky was taken into police custody in Stockholm, Sweden for his involvement in a street fight nearly two weeks ago. TMZ reports that he is being held for two weeks "while prosecutors decide whether to charge him for aggravated assault." The incident was caught on camera. While it showed that Rocky and his crew were not the aggressors in the situation it also showed Rocky and his entourage tossing a guy and punching him at one point.
Witnesses initially told the entertainment news site, "the fight started because a man was hounding A$AP and his team over a pair of headphones he claimed they had broken." However, the "Praise the Lord" rapper later posted a nearly three-minute long video on Instagram showing that the aggressor was actually the man who'd broken his headphones and smashed them on the head of his bodyguard. Even after that, Rocky is shown on camera playing peacemaker, trying to deescalate the situation. The fight reportedly erupted several minutes later when the man continued to hound Rocky and his crew, and after a woman claimed the man had groped her.
If convicted, Rocky faces up to six years behind bars. According to TMZ, Swedish officials have made it quite difficult for Rocky to communicate with the U.S. Consulate about his detainment, despite that being his legal right. After being initially denied access to an official from the American Consulate — which sources said was because "Swedish officials did not want him to see the condition inside the facility" — "Rocky's team persisted and eventually the consulate official was allowed to see him two days later, but only in the presence and earshot of two Swedish guards."
Rocky's team is now reportedly trying to get the State Department involved to help get him from behind bars.
Photo: Getty Images
Chat About ASAP Rocky Being Held In Swedish Jail With Inhumane Conditions: Report