AC/DC's Brian Johnson Is Bringing His Hit TV Series To U.S. In September
By Andrew Magnotta @AndrewMagnotta
July 11, 2019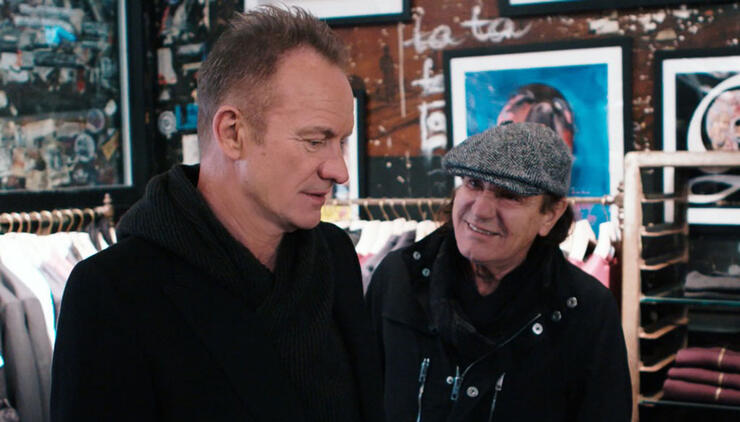 AC/DC front man Brian Johnson's television show is finally coming to a U.S. audience this September.
AXS TV on Wednesday announced that Brian Johnson's: A Life on the Road will make its American debut Sunday, Sept. 15 at 9 p.m. ET/6p.m. PT.
The series follows Johnson as he travels the world with other Rock and Roll Hall of Famers, getting an inside look at new angles on their passion for music. The first two seasons of the series, which AXS TV has acquired, feature episodes with Sting, Robert Plant, Roger Daltrey, Joe Elliott, Lars Ulrich, Nick Mason, Billy Joel, Joe Walsh, Dolly Parton, Paul Rodgers and Mick Fleetwood.
Johnson says the reason the show works is because he and his guests have authentic conversations based on their unique mutual experiences as rock/pop stars.
"To sit and chat with my friends and heroes while filming On the Road was ridiculous fun, and with no professional journalists around, you can feel the trust," he said.
The first episode features Johnson visiting Sting in New York City, where The Police front man discusses the band's early days, as well as the inspiration behind their biggest hit, "Roxanne."
The pair even visit the former site of New York's legendary punk rock venue CBGB's, where The Police performed their first U.S. gig.
In the next episode, John and Plant discuss Led Zeppelin's love of American blues music and how Plant established him as a solo artist after so many years in Zeppelin.
Photo: Getty Images
Chat About AC/DC's Brian Johnson Is Bringing His Hit TV Series To U.S. In September