Nicki Minaj Takes Out Marriage License— Could Get Married Any Day Now
By Peyton Blakemore
July 30, 2019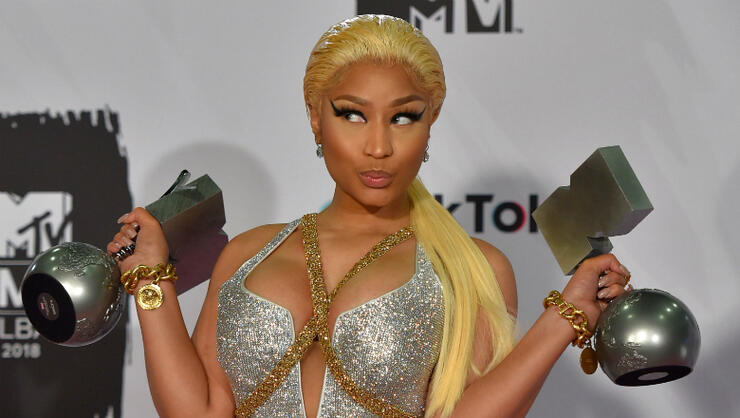 Nicki Minaj may soon be a married woman.
According to TMZ, Nicki and her boyfriend Kenneth Petty picked up a marriage license in Los Angeles on Monday (July 29). Witnesses told the site they saw the couple, who went public with their relationship in December 2018, at the marriage license bureau window inside the Beverly Hills Courthouse, picking up the paperwork needed to tie the knot.
"Nicki and Kenneth were trying to keep a low profile inside the courthouse as they waited in line at a window that read, 'marriage licenses and ceremony appts. ONLY' and Kenneth paid for the license before they left," TMZ reports. Nicki was reportedly wearing a ball cap, seemingly in an attempt to conceal her identity, however, her knee-length bright red hairdo gave her away.
As fans know, the "MEGATRON" rapper has been calling Kenneth her "husband" for months now. Back in March, following her "Nicki World Tour" stop in London, the 36-year-old rapper opened up about her relationship on a radio show, saying, "Every night when I get out of the shower, my husband takes this really good lotion that we just bought, and he massages my feet, and rubs them, and he rubs each toe individually, and the heel, and the ball of my foot, and he does it all."
Funny enough, in June, Nicki told fans that she and her boo had already gotten their marriage license. However, given that the two were spotted on Monday, it seems she may have been speaking prematurely.
It's not known yet when the two will tie the knot. However, marriage licenses are good for a maximum of 90 days and are typically requested in the days/weeks before a wedding.
Guess we'll just have to wait and see what Nicki has planned!
Photo: Getty Images
Chat About Nicki Minaj Takes Out Marriage License— Could Get Married Any Day Now