Garth Brooks Reveals Second Stop For His 2019 Dive Bar Tour
By Blake Taylor
August 1, 2019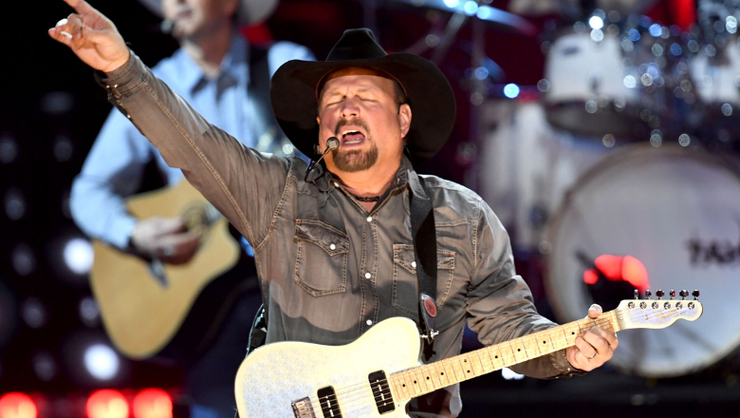 Garth Brooks just announced the next stop for his epic 2019 "Dive Bar Tour." The country music superstar will be performing at Buck Owens' Crystal Palace in Bakersfield, California.
Brooks shared the location of the second show on Monday night (July 29) during his weekly Facebook show, Inside Studio G. Before officially sharing the news, he teased fans a bit displaying a photo from 2005 when he proposed to his now-wife, Trisha Yearwood. Brooks says, "For anybody that knows Ms. Yearwood and I's past, we got engaged at Crystal Palace, Buck Owen's place, in Bakersfield, California. The next dive bar is the Crystal Palace in Bakersfield, California. This is going to be fun."
The only way to get your hands on tickets for the Bakersfield show is to win them by listening to local radio station, KUZZ-FM. Additionally, all ticket-holders must be 21 years of age or older.
The Crystal Palace has big shoes to fill following the rowdy crowd from Joe's Bar in Chicago, Illinois. "Chicago was fun, Bakersfield, you got a lot of pressure," Brooks explains, "but Bakersfield has been very very good to me."
In addition to Chicago and Bakersfield, the "Dive Bar Tour" will also make stops to dive bars in five more cities. The locations and dates of the upcoming shows have yet to be announced yet.
Brooks is also on the road for his massive "Stadium Tour" which kicked off at Notre Dame Stadium in October of 2018. Recently, on July 19, fellow country singer, Blake Shelton, joined Brooks at Albertsons Stadium at Boise State University in Boise, Idaho. Shelton hit the stage to perform a duet with Brooks of their new collaboration and Brooks' latest single, "Dive Bar." This was their first-ever live performance of the feel-good track.
"Dive Bar" is expected to appear on Brooks' forthcoming studio album, Fun. He has yet to announce the release date for the new project but stay tuned for more detail to come.
Chat About Garth Brooks Reveals Second Stop For His 2019 Dive Bar Tour