Pink Posts Photo of Daughter's Dyed Hair After Jessica Simpson Mom-Shaming
By Taylor Fields
August 2, 2019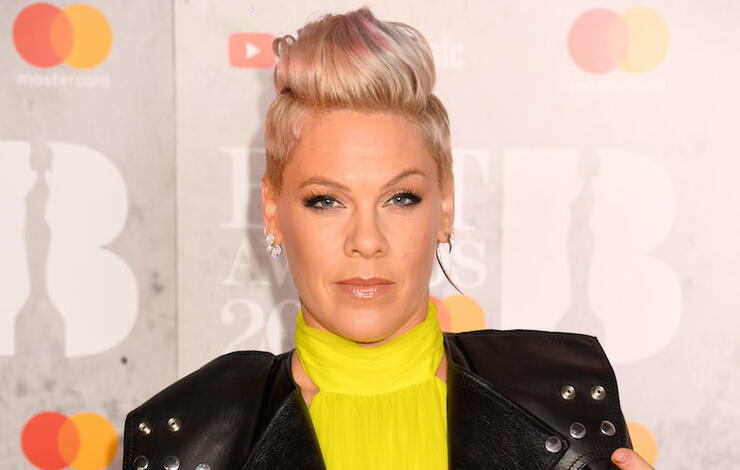 P!nk is not here for any type of mom-shaming — whether it happens to her or anyone else — and she's proving it in a new photo posted to Instagram of her daughter's newly dyed blue hair.
Earlier this week, Jessica Simpson was mom-shamed for letting her 7-year-old daughter Maxwell dye her hair pink and purple, a style inspired by Disney's Descendants movie (of which the third installment is being released this week). After posting a photo of the new hair color to her Instagram, Simpson was called out on the social network for allowing her daughter to dye her hair at her young age with one person saying that she "ruined" Maxwell's hair and another writing, "Don't like it at all !!! Much better before the color. The new color makes her look older than her age."
So, P!nk, who has been mom-shamed before and is no stranger to internet trolls and their comments, took to Instagram in support of Jessica and Maxwell's newly-dyed locks, and shared a photo of her 8-year-old daughter Willow dying her hair blue. The photo shows P!nk dying Willow's hair in the kitchen, and then the finished product.
The singer wrote along with the photo, "I heard people were bummed on Jessica Simpson for letting her seven year old get her hair colored. So we thought we'd share what we did yesterday. #bluehairdontcare #getyourownkids #parentpoliceareactuallyjustlonelysadpeople #illdyeyourhairtoolosers #ohlookmanocomments."
The hashtags she uses calls out the "parent police," AKA mom shamers everywhere, but the last hashtag, "#ohlookmanocomments" signifies that she turned off comments on her social media post so that no internet trolls or anyone looking to mom shame her cannot do so.
This is not the first time Willow has dyed her hair either. Back in May, the 8-year-old was spotted out with her mom rocking some purple hair.