Luke Combs Scores Sixth No. 1 With 'Beer Never Broke My Heart'
By Blake Taylor
August 6, 2019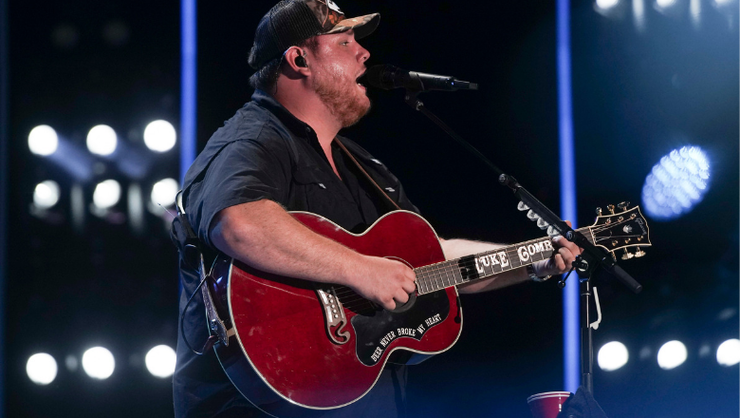 Luke Combs simply can not be stopped.
The country singer just notched his sixth consecutive career No. 1 hit as "Beer Never Broke My Heart" makes it to the top of the country chart. This means every song Combs has released to radio, has eventually gone on to become a No. 1 hit, starting with "Hurricane" in 2016. "When it Rains It Pours," "One Number Away," "She Got The Best Of Me," and "Beautiful Crazy" all have hit the top as well.
To add to the excitement, the hitmaker took to social media today (August 5) to share behind the scenes footage from his "Beer Never Broke My Heart" music video. "#WaterNeverBrokeMyHeart Behind the Scenes- "Beer Never Broke My Heart" Music Video: Episode 1," Combs simply captioned the video. See why Combs mixed it up from "beer" to "water" in the video below.
Also making it to this week's Mediabase Top 5 is Dan + Shay's "All To Myself," Justin Moore's "The Ones That Didn't Make It Back Home," Jason Aldean's "Rearview Town," and Luke Bryan's "Knockin Boots."
In addition to his crazy success on the radio, Combs has also been killing it out on the road for his "Beer Never Broke My Heart Tour." He's managed to sell out massive venues all over the country and recently announced the extension of the tour to five new cities including Nashville, Los Angeles, San Diego, San Antonio, and Louisville. To add to his career successes, the young artist was also just recently inducted into the Grand Ole Opry on July 16 by two of his biggest musical influences, Vince Gill and Joe Diffie.
It's been a wild ride for Combs and I have a feeling it won't be slowing down any time soon. His natural talent and large, passionate fan-base is bound to take him a long way.