Megan Thee Stallion & Nicki Minaj Bring "Hot Girl Summer" To Life
By Taylor Fields
August 8, 2019
After teasing the collab earlier this week, Megan Thee Stallion is here to bring "Hot Girl Summer" to life with the help of Nicki Minaj and Ty Dolla $ign.
During a recent appearance on E!'s Daily Pop News, Megan explained of how the collab with Nicki came to be, "The song was already recorded and ready to go, and then we just went live [on Instagram] together, and she literally just recorded her verse that night. And they sent the song to me and I was like, 'This is not real life, like, y'all are playin' right now.' I love it, it was amazing, I can't believe she did it so fast."
Featuring production from Juicy J, "Hot Girl Summer" talks all about what it really means to be a "Hot Girl" as all three artists explain in the song's chorus, "It is what it is, that's a five-star dish (Oh, I'ma hot girl so you know ain't sh*t stoppin')/ She a Big Ole Freak, it's a must that I hit/ It's a Hot Girl Summer so you know she got it lit."
As Megan explained on Twitter back in July, "Being a Hot Girl is about being unapologetically YOU, having fun, being confident,living YOUR truth , being the life of the party etc."
Megan shared the "Hot Girl Summer" cover art on social media earlier this week, which features herself and Nicki in some *hot girl* outfits while sitting on a bottle of liquor. She wrote along with the image, "REAL MF HOT GIRL SH*T ... THE HOT GIRLS TOOK OVER THE MF SUMMER SO IT WAS ONLY RIGHT TO GIVE THE HOTTIES THE OFFICIAL TRACK !!!" Minaj added on her own Instagram, "chile who put me on the artwork? Did I rlly do a verse for this song the night we got off that live, Hottie?" and concluded with, "when the Barbies & the Hotties link up."
And during a recent Instagram live, both Megan and Nicki bonded, with the former praising the latter. Megan told Nicki, "Yes, we love you. Oh my God! Since motherfu**in' 2008 when I was in eighth grade and I could listen to rap music on my own." She later added, "Stop playing with Nicki Minaj like she ain't the motherfu**in' GOAT!"
And now, we officially have the "Hot Girl Summer" anthem.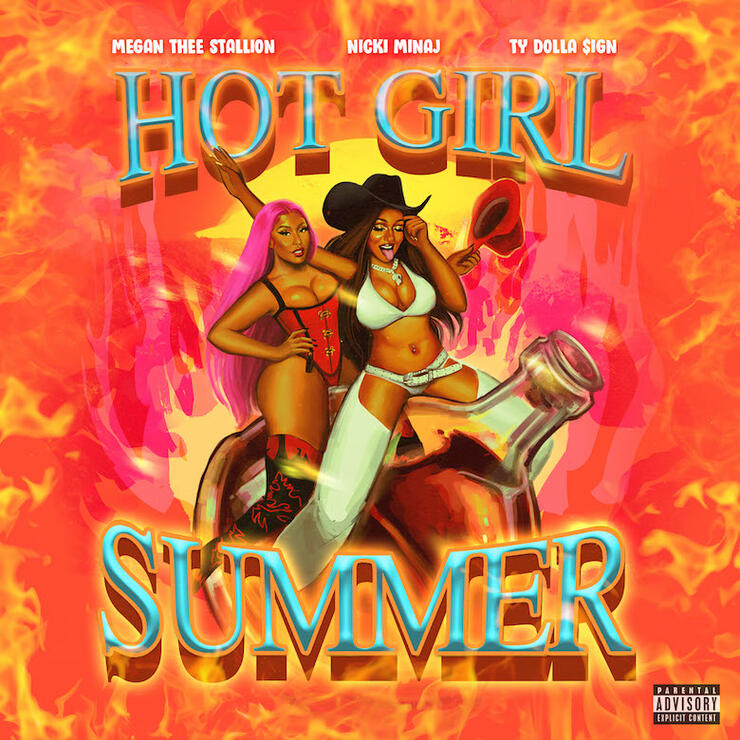 Chat About Megan Thee Stallion & Nicki Minaj Bring "Hot Girl Summer" To Life