Chrissy Teigen Slams Kid Rock After He Attacks Taylor Swift On Twitter
By Lauren Crawford
August 10, 2019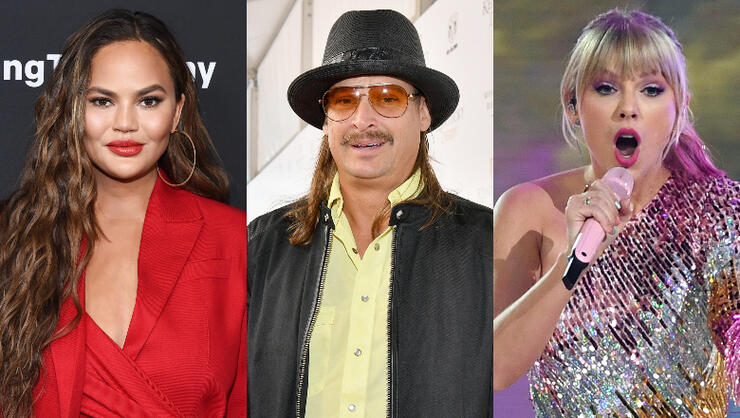 Chrissy Teigen won't stand for Kid Rock's disrespect!
The unofficial (but official) queen of Twitter issued yet another iconic clap back while coming to Taylor Swift's defense after the 48-year-old rocker randomly attacked T-Swift over her political views.
"Taylor Swift wants to be a democrat because she wants to be in movies….period," he wrote on Friday (August 9). "And it looks like she will suck the door knob [sic] off Hollyweird [sic] to get there. Oldest move in the book. Good luck girl. -Kid Rock."
Without missing a beat, Chrissy quickly fired back, replying to his sexist tweet: "you're pathetic. - Chrissy Teigen." While Taylor has yet to respond to Rock's unsolicited online hate, it's safe to assume she's somewhere saying, "You Need To Calm Down."
While it's unclear what exactly caused Kid Rock's crude Twitter outburst, Taylor's Vogue cover story in which she talked about politics was released a day prior to his rant. In the interview, Taylor brought up the 2016 Presidential election and explained why she chose to stay quiet and not endorse a candidate.
"Unfortunately in the 2016 election you had a political opponent who was weaponizing the idea of the celebrity endorsement," she said, referring to Donald Trump, though she did not mention him by name. "He was going around saying, 'I'm a man of the people. I'm for you. I care about you.' I just knew. I knew I wasn't going to help."
"Also, you know, the summer before that election, all people were saying was: '[Taylor Swift's] calculated. She's manipulative. She's not what she seems. She's a snake. She's a liar.' These are the same exact insults people were hurling at Hillary [Clinton]," she added. "Would I be an endorsement or would I be a liability?"
"Look, snakes of a feather flock together. Look, the two lying women," Taylor continued. "The two nasty women. Literally millions of people were telling me to disappear. So I disappeared. In many senses."
However, Taylor chose to break her political silence last November during the midterm elections when she issued her support for Tennessee's Democratic candidates Phil Bredesen for Senate and Jim Cooper for House of Representatives.
"I'm writing this post about the upcoming midterm elections on November 6th, in which I'll be voting in the state of Tennessee," she wrote on Instagram. "In the past I've been reluctant to publicly voice my political opinions, but due to several events in my life and in the world in the past two years, I feel very differently about that now."
Check out her full statement below!
Chat About Chrissy Teigen Slams Kid Rock After He Attacks Taylor Swift On Twitter