Maren Morris Debuts 'The Bones' Music Video Featuring Her Husband Ryan Hurd
By Blake Taylor
August 16, 2019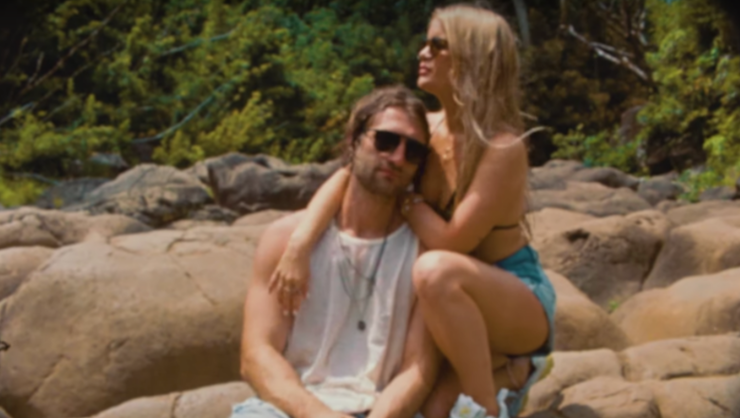 Maren Morris just dropped the official music video for her latest single, "The Bones." Making a special appearance in the video is Morris' husband and singer-songwriter, Ryan Hurd.
The footage shows the two enjoying a tropical beach vacation in Maui, Hawaii. They are shown laying on the beach, exploring waterfalls, and visiting the famous Road to Hana.
In an Instagram posted by Morris she shared a brief video showing parts of the full music video. In her caption she wrote, "The Road to Hana is beautiful but a hell of a trek...kind of like the most meaningful & lasting human relationships we get to have. This is our journey on film for "The Bones" directed by our friend and Maui aficionado @AlexMFerrari."
It only seems right that Hurd makes an appearance in the video for "The Bones," since the song was somewhat inspired by him.
"I think that's why I love Ryan so much," Morris shared with Taste of Country. "Even in my darkest tunnels that I've been through in my life- he has seen nothing but beauty. And he never has tried to water me down. I think sometimes I can be pretty obnoxious, but he loves it." She continues explaining, "He never makes me feel stupid, or like I'm being over the top, or embarrassing him. He's just completely accepting."
Morris and Hurd both continue to pursue their own individual dreams while also loving and supporting one another along the way. Currently, Morris is out on the road for her "Girl: The World Tour" running through November 16. Later this fall, she'll join Miranda Lambert for her "Roadside Bars & Pink Guitars Tour" with other all-female openers, Elle King, Ashley McBryde, Caylee Hammack, and Tenille Townes.
You can check out Morris' full new music video for "The Bones" below.
Had the best heart to hearts with my love, shot a music video on real film, filled my songwriting idea well, and still had clear skin after a week of drinking Painkillers...? I love you, Hawaii. ✨🌴 pic.twitter.com/EZQZqGefpu

— MAREN MORRIS (@MarenMorris) July 2, 2019