Brody Jenner's Ex Gives 1st Interview Since Miley Cyrus Kissing Pics
By Peyton Blakemore
August 16, 2019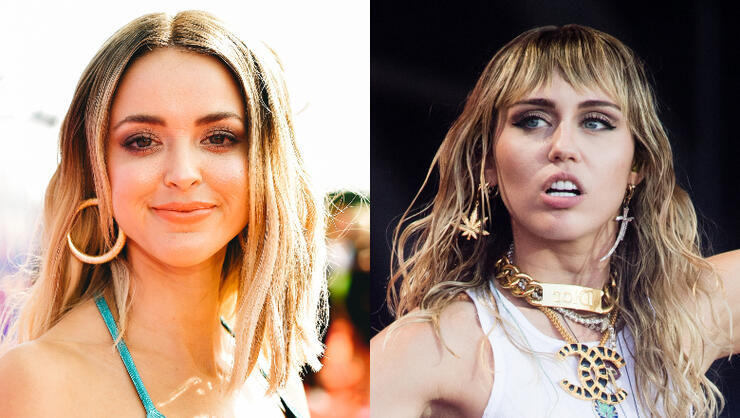 Kaitlynn Carter may not be ready to talk about those kissing photos with Miley Cyrus, or her split from Brody Jenner, but she sure has a lot to say about her time on Hills: New Beginnings.
While being interviewed by her co-star Whitney Port on Thursday (August 15), the 30-year-old blogger and reality star opened up about being hesitant to sign on to the series with her now-ex Brody. "We took so long to decide to do the show or not... Spencer [Pratt] approached us about it probably two years ago, and it was an automatic no," she explained, per Entertainment Tonight. "The reason that I decided [to do] this was because you [Whitney] messaged. You're like, 'I'm doing it so I need you to do it.' So Whitney convinced me to do it."
"It was originally, we thought, kind of a crazy idea to be for Brody to be back on TV and for me to be on there in the first place because it's not really my comfort zone," she continued. "But then I also thought it would be fun. The decision really was about for us to spend more time together. He was always on the road DJing, and I was on the road for work. This was a project we would do together."
As fans know, the couple's rocky relationship is a big part of the current season of the MTV series, which is why few were surprised when Kaitlynn and Brody announced their own separation earlier this month after tying the knot in Bail in June 2018. (It was recently revealed that their marriage was never made legal) News of their split came a few weeks before photos surfaced of Kaitlynn kissing a newly single Miley —who announced her split from Liam Hemsworth earlier this week — during the ladies' group vacation in Lake Como, Italy last week.
While the Hills star made no mention of her vacation smooch, she talked about her feelings on social media, which she has been on quite a lot — she liked a comment that praised her relationship with Miley — since the kissing photos surfaced. "I think that my philosophy with the show and in life is just to be authentic," she said, adding that "you got to just not look at anything" in terms of negative comments online.
Photo: Getty Images
Chat About Brody Jenner's Ex Gives 1st Interview Since Miley Cyrus Kissing Pics