Dave Grohl Hints At Them Crooked Vultures' Return
By Katrina Nattress
August 18, 2019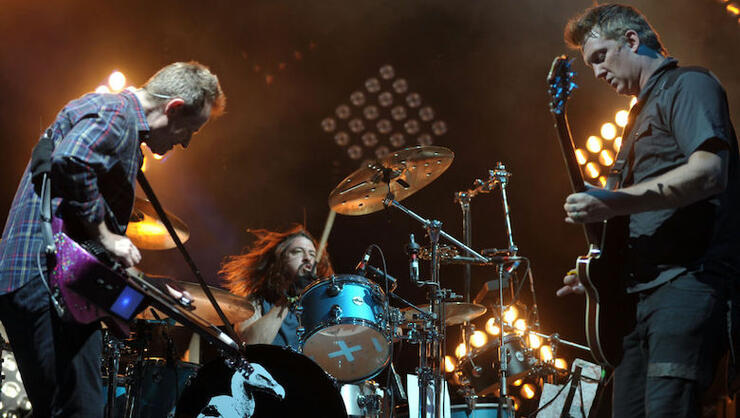 It's been nearly 10 years since Them Crooked Vultures released their self-titled debut album, and though the band has been on hiatus since 2010, Dave Grohl hinted at a possible return during a recent interview with The Guardian.
"Technically we're still a band," Grohl said of the supergroup, which also consists of Queens of the Stone Age's Josh Homme and Led Zeppelin's John Paul Jones. "We practice once every decade, and we're coming up on another decade, aren't we? I don't have any official news but there's always something cooking."
"Josh is one of my best friends," Grohl continued, referring to his relationship with Homme. "We're like brothers. We go out and have waffles together. We ride motorcycles. There is nobody I'd rather play drums with. He's the guy."
When it comes to Jones, however, the Foo Fighters frontman still finds himself starstruck every now and then. "There are times when you've relaxed into a sofa and you're not thinking about his time in Led Zeppelin," he said. "Then you start playing and you're immediately reminded that you are a musical speck compared to this man."
While teasing the return of Them Crooked Vultures, Grohl has been busy this year with the Foos. They're currently playing the European festival circuit and are enlisting the help of their fans to help curate their Reading & Leeds set list.
Photo: Getty Images
Chat About Dave Grohl Hints At Them Crooked Vultures' Return