Jon Pardi Releases New Laid-Back Song, 'Tequila Little Time'
By Blake Taylor
August 18, 2019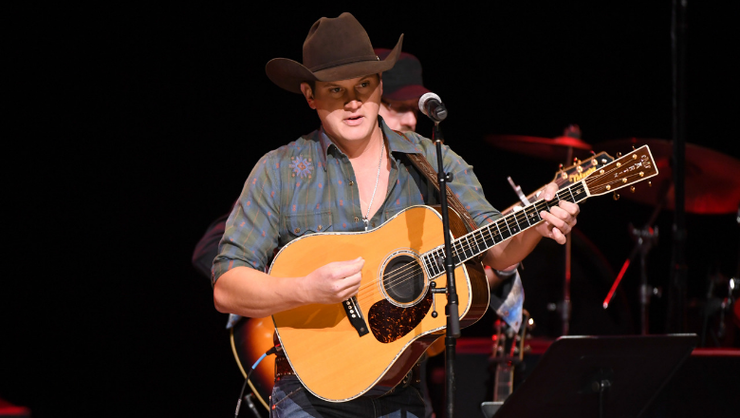 Jon Pardi just released another song off his upcoming album, Heartache Medication on Friday (August 16). The song, "Tequila Little Time" follows up previously released tracks, "Heartache Medication," "Me and Jack" and "Ain't Always The Cowboy."
In an Instagram video posted by Pardi to promote the new song, he wrote, "Who wants a shot of tequila?! Another new song from the upcoming album is out today and it's a fun one! This is 'Tequila Little Time.'"
The new tune, written by Pardi himself alongside Rhett Akins and Luke Laird, offers a laid-back, relaxation summer feel. "It's about picking up a girl that's down and maybe- maybe- we want to do a shot of tequila," Pardi says. "It's just a fun song."
Heartache Medication drops on September 27 and is expected to have 14 new songs, some written by fellow country singers, Miranda Lambert and Eric Church. "There's a lot of songs and subject that this album talks about, and it could be sad like a loss, or just kind of down, but the songs lift you up. They put you in a higher place," Pardi explains referencing the new album.
Heartache Medication follows up Pardi's previously successful album, California Sunrise, which gave us hits like "Night Shift," "Heartache On The Dance Floor," "Head Over Boots," and "Dirt On My Boots."
The country star is currently out on the road with Dierks Bentley this summer for his "Burning Man Tour." This fall, he's set to kick off his own headlining tour, the "Heartache Medication Tour" with special guest, Riley Green. The tour will kick off on October 1st and 2nd with two back-to-back sold out show at Nashville's Ryman Auditorium.
Take a listen to Pardi's latest song, "Tequila Little Time" below.
Chat About Jon Pardi Releases New Laid-Back Song, 'Tequila Little Time'