Old Dominion Talk 'Songland,' Recording Winner's Track 'Young'
By Hayden Brooks
August 22, 2019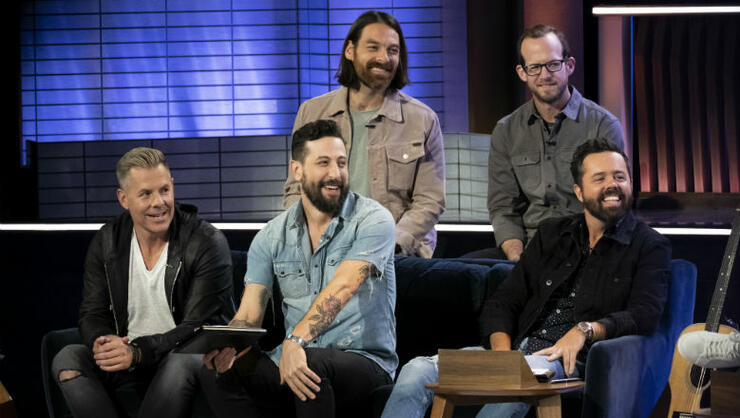 After last week's comeback episode with Meghan Trainor, Songland returned for another installment on Wednesday (August 21) and the star-studded panel comprising of Ryan Tedder, Ester Dean and Shane McAnally was joined by Old Dominion. For the latest episode of the counterpart podcast, listeners heard the five-piece speak about the show's concept and Katelyn Tarver break down her winning song "Young," which landed in a TV spot for Jeep.
"Part of me is surprised this hasn't existed up until this point," Old Dominion said in reference to the concept of the show. "You know, and then maybe that's just coming from my own perspective on life because I love songwriting so much. But we all love music, and we love artists, and we love that part of it. But those songs had to come from somewhere, and the process, to which they're created, to me, is the most fascinating thing."
For their episode, the country act decided on recording a nostalgic song called "Young," which revolved around reminiscing on the early stages of romance. Elsewhere in the episode, Tarver, who once competed on American Idol spin-off, American Juniors, explained that her childhood aspirations to be a singer started, in part because of the teen pop explosion of the 2000s. About a year ago, the Georgia-based singer sat down to write her winning track and the personal ties felt too strong.
"I got married young, and fell in love young. When you're falling in love with this certain person for the first time, it's so romantic and so fun," she explained of the track's backstory. "You're always just living life like it's a movie. You're not really thinking about logistics, or your schedule, or your calendar, or whether or not you need to get your oil changed. It's like that stuff just like isn't as relevant. . . When you're with the same person for a long time, that obviously starts to fade out, and real life takes over."
Tarver was partnered with McAnally to workshop the track and tweak it a bit to fit Old Dominion's sound. "We talked about amping up the track a bit," she explained. "My version's a little bit more [of a] mid-tempo ballad, and we wanted to sort of amp up the energy for Old Dominion and make it way more anthemic, add more drums, and add more guitar, and add more pulsing bass."
To hear more about "Young," scroll on below to take a listen to the accompanying episode of the Songland Podcast and stay tuned for new episodes of Songland every Wednesday night at 10 PM ET on NBC!
If you want to be sure you're listening to the podcasts everyone else is checking out, iHeartRadio has you covered. Every Monday, iHeartRadio releases a chart showing the most popular podcasts of the week. Stay up to date on what's trending by checking out the chart here. There's even a chart just for radio podcasts here, featuring all your favorite iHeartRadio personalities like Bobby Bones, Elvis Duran, Steve Harvey and dozens of others.
Chat About Old Dominion Talk 'Songland,' Recording Winner's Track 'Young'